qPCR Instruments Market In-Depth Analysis and Forecast report By 2028
qPCR Instruments Industry Overview
The global qPCR instruments market size is expected to reach USD 1.39 billion by 2028, according to a new report by Grand View Research, Inc. It is expected to expand at a CAGR of 3.4% from 2021 to 2028. The market is driven by the introduction of novel advanced products and an increase in demand for highly efficient diagnostic equipment.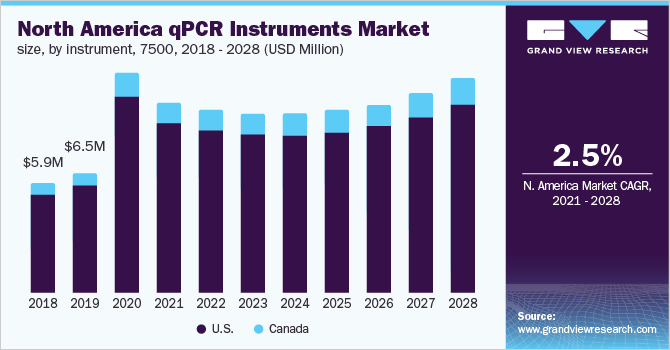 qPCR Instruments Market Segmentation
Grand View Research has segmented the global qPCR instruments market based on instrument and region:
Based on the instrument Insights, the market is segmented into 7500, QuantStudioDx Real-Time PCR System, QuantStudio 5 Real-Time PCR System, ViiA 7 Dx, StepOne/ StepOne Plus, LightCycler 2.0/ 96/ 480/ 1536, Cobas 4800, CFX96, SmartCycler, GeneXpert, Rotor-Gene Q 5Plex HRM System, Rotor-Gene Q, BioFire FilmArray Systems, BMS Mic System.
The GeneXpert segment accounted for the largest revenue share of over 20.0% in 2020 and is expected to witness the fastest growth over the forecast period. This is attributed to its increased adoption rate during the SARS-CoV-2 pandemic for the detection of infections. This system provides 24/7 testing accuracy, workflow flexibility, and user-friendly designs. They offer multiple tests on a single, scalable, and consolidated workstation. Key features of this system include high adjustability, touchscreen, increased accumulator capacity, expanded conveyor and loading zone, expanded test shuttle, and self-containment. It also has a faster, quieter, and more robust robotic gantry.
The BioFire FilmArray systems segment held the second-largest revenue share in 2020 owing to rapid and accurate automated detection of infections and pathogens in blood, gastrointestinal, meninges, and respiratory tract with the instrument. The instrument is available in BioFire Torch System and BioFire FilmArray 2.0 versions.
The BMS Mic system segment is anticipated to grow owing to its low weight, making it portable and easy to handle. Fast PCR results are provided by the equipment by completion of 32 PCR cycles in 25 minutes. In addition, features such as Bluetooth can enhance its connectivity to a PC or laptop. Furthermore, multiple Mic qPCR systems can be connected to one operating computer, thereby enhancing the number of samples that can be tested to get results.
QPCR Instruments Regional Outlook
North America
Europe
Asia Pacific
Latin America
Middle East & Africa
Key Companies Profile & Market Share Insights
Real-time PCR has various significant external substitutes, including advanced instruments like dPCR and newly developed nanoplasmonic PCR. Key players are making use of their existing consumer pool in the region to provide additional products and generate more business. This strategy is useful for brands that have already built trust in the market.
Some of the prominent players operating in the global qPCR instruments market include,
Thermo Fisher Scientific, Inc.
Hoffmann-La Roche Ltd.
Bio-Rad Laboratories, Inc.
Danaher Corporation
Qiagen
Agilent Technologies, Inc.
Abbott
bioMérieux SA
Quantabio
Azure Biosystems, Inc.
Bio Molecular Systems
Order a free sample PDF of the qPCR Instruments Market Intelligence Study, published by Grand View Research.