Which Segment Accounted For The Largest Recycled Concrete Aggregates Market Share?
San Francisco, Calif., USA, May 29 2023 — /EPR Network/ —
Recycled Concrete Aggregates Industry Overview
The global recycled concrete aggregates market size was estimated at USD 7,708.3 million in 2020 and is expected to expand at a compound annual growth rate (CAGR) of 6.8% from 2021 to 2028. The market growth is expected to be driven by rising concern about the environment and natural resources and the importance of recycled materials in the construction industry.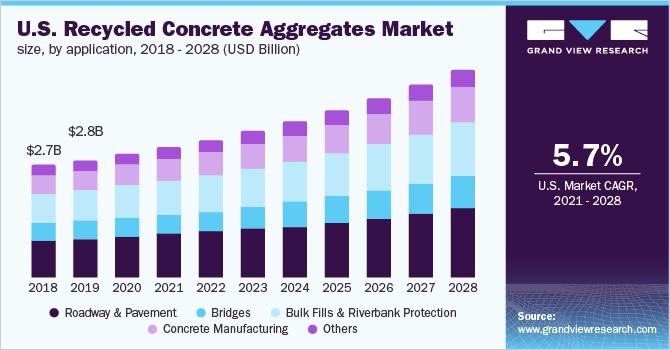 A major impact of the COVID-19 pandemic has been felt by the construction sector, a sensitive sector to economic cycles. There have also been disruptions in the industry as many countries have closed their construction sites. In addition, most of the open sites have faced disruptions in supply chains and operational restrictions. This has resulted in financial index volatility. However, construction holds much potential to stimulate recovery, owing to its ability to create jobs; and, as a result, recovery measures can help the sector shift toward sustainability and digitization.
Gather more insights about the market drivers, restraints, and growth of the Global Recycled Concrete Aggregates Market
Words such as "sustainable development" have become household terms in the U.S. Concrete is the most important, the most versatile, and the most widely used building material across the globe. With more stringent sustainability requirements, rising costs, a shortage of labor, and new materials, production techniques, and digital tools available, the industry is forced to innovate. Another environmental burden is the demolition and disposal of concrete structures, pavements, etc. Concrete is the largest single component of construction debris, which contributes a large portion of solid waste disposal problems.
Concrete waste can be recycled into recycled concrete aggregates, which are estimated to be less expensive than natural aggregates. Recycling aggregates has some limitations due to transport, quality, and availability of raw materials, which in this case are highways and demolitions. It is necessary to recycle every tonne of concrete to benefit the environment and contribute to a more sustainable future rather than burying it. To protect natural resources and promote sustainability, companies engaged in the construction materials business focus on producing and promoting recycled concrete aggregates in the U.S.
Browse through Grand View Research's Advanced Interior Materials Industry Related Reports
Precast Concrete Market – The global precast concrete market size was estimated at USD 96.3 billion in 2021 and is expected to register a compound annual growth rate (CAGR) of 5.5% over the forecast period.
Modular Construction Market – The global modular construction market size was estimated at USD 90.79 billion in 2022 and is expected to register a growth of 7.5% over the forecast period.
Recycled Concrete Aggregates Market Segmentation
Grand View Research has segmented the global recycled concrete aggregates market on the basis of product, application and region:
Recycled Concrete Aggregates Product Outlook (Revenue, USD Million, 2017 – 2028)
Recycled Concrete Aggregates Application Outlook (Revenue, USD Million, 2017 – 2028)
Roadway & Pavement
Bridges
Bulk Fills & Riverbank Protection
Concrete Manufacturing
Others
Recycled Concrete Aggregates Regional Outlook (Revenue, USD Million, 2017 – 2030)
North America
Europe
Asia Pacific
Central & South America
Middle East & Africa
Market Share Insights:
June 2020: CEMEX Ventures invested in Arqlite SPC, which makes lightweight recycled aggregates from plastic waste that are more durable and have a lower carbon footprint, making them ideal for precast, drainage, and lightweight concrete.
January 2018: Vulcan Materials Company completed the acquisition of Aggregates USA, LLC. This acquisition complements and expands Vulcan's footprint in Georgia, South Carolina, and Florida, enhances the product offering, expands the distribution network and service areas, and will enable the company to better serve its customers.
Key Companies profiled:
Some prominent players in the global Recycled Concrete Aggregates market include
Lehigh Cement
Vulcan Materials Company
FERMA CORP
LafargeHolcim
Top Grade Site Management, LLC
Delta Sand & Gravel Co.
CEMEX S.A.B. de C.V.
Southern Crushed Concrete
Big City Crushed Concrete
Independence Recycling of Florida
Order a free sample PDF of the Recycled Concrete Aggregates Market Intelligence Study, published by Grand View Research.