How Big Is the Robotic Prosthetics Market?
San Francisco, Calif., USA, June 01 2023 — /EPR Network/ —
Robotic Prosthetics Industry Overview
The global robotic prosthetics market size was valued at USD 1.4 billion in 2022. It is anticipated to progress at a compounded annual growth rate (CAGR) of 8.8% from 2023 to 2030. The market is primarily driven by the high rate of innovation in the field of robotics by deploying artificial intelligence, 3D printing and increased demand for custom made bionic prosthesis. High rate of amputation due to injuries, chronic diseases and congenital diseases are also key to the rise in demand for robotic prosthetics.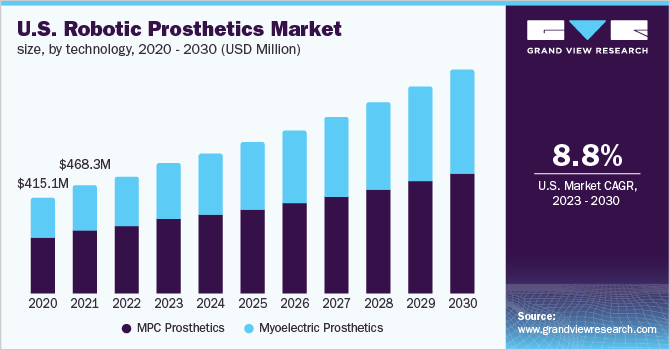 As per the Amputee Coalition, 2.1 million people are currently living with limb loss, in the U.S. Chronic diseases like diabetes, vascular diseases and cancer are among the leading causes for amputation. The global prevalence of chronic diseases is exploding, they account for 71% of global death, annually, as per the WHO. Out of these, cardiovascular diseases cause the most deaths, approximately 17.9 million annual deaths, cancers, respiratory diseases and diabetes are the three other major fatal chronic diseases.
Gather more insights about the market drivers, restraints, and growth of the Global Robotic Prosthetics Market
According to the Amputee Coalition, of the more than 2 million people living with a loss of limb in the U.S., majority (54%) were due to diseases like diabetes, peripheral arterial disease etc. and 45% were due to trauma. A paper published in Prosthetics and Orthotics International stated the global prevalence of amputations due to trauma was more than 57 million, as of 2017. The increasing rate of amputations and increasing need to find better technologies to restore quality of life for amputees is driving the growth of the market.
Rapid advancements in technology especially in robotics has also been a key driver for the growth of the robotic prosthetics market. The use of better materials, biosensor technology, use of artificial intelligence as well as other tools are behind the rapidly evolving field of robotics. Bionic prosthetics are making robotic limbs feel more and more like regular limbs with more agile, human like movements and aesthetically appealing looks for robotic prosthetics. However, the only downside is the cost of these technologies which make them non-approachable to the general public. These advanced technologies are still in development and testing phase and are poised to bring about a revolution in the market. For instance, in Sweden, researchers have been studying and improving a new version of consciously controlled prosthetic arm, capable of significantly improving the quality of life for amputees. The prosthesis is surgically attached to bone, muscle and nerves, implanted electrodes pick up brain signals and help in movement, touch, etc., just like a normal, natural arm would. Innovations like these are significant contributors to the overall growth of the robotic prosthetic market, globally.
Browse through Grand View Research's Medical Devices Industry Related Reports
3D Printed Prosthetics Market – The global 3D printed prosthetics market size was valued at USD 1.3 billion in 2022 and is anticipated to exhibit a compound annual growth rate (CAGR) of 7.7% from 2023 to 2030.
Prosthetics And Orthotics Market – The global prosthetics and orthotics market size was valued at USD 6.6 billion in 2022 and is expected to grow at a compound annual growth rate (CAGR) of 4.3% from 2023 to 2030.
Robotic Prosthetics Industry Segmentation
Grand View Research has segmented the global robotic prosthetics market based on technology, extremity, and region:
Robotic Prosthetic Technology Outlook (Revenue, USD Million, 2016 – 2030)
MPC Prosthetics
Myoelectric Prosthetics
Robotic Prosthetic Extremity Outlook (Revenue, USD Million, 2016 – 2030)
Lower Body Prosthetics
Upper Body Prosthetics
Robotic Prosthetics Regional Outlook (Revenue, USD Million, 2016 – 2030)
North America
Europe
Asia Pacific
Latin America
MEA (Middle East & Africa)
Market Share Insights:
September 2021: Steeper introduced a myoelectric system which includes Myo Kinisi hand which is easy to control along with auto grip function providing amputees to grip or hold objects much more efficiently.
Key Companies profiled:
Some prominent players in the global Robotic Prosthetics Industry include
HDT Global
Ottobock
EndoliteSynTouch, Inc.
Touch Bionics, Inc.
Shadow Robot Company
Össur Americas.
Order a free sample PDF of the Robotic Prosthetics Market Intelligence Study, published by Grand View Research.