Handbag Market Size, Emerging Trends, Growth Opportunities and Current Scenario
San Francisco, Calif., USA, June 06 2023 — /EPR Network/ —
Handbag Industry Overview
The global handbag market size was valued at USD 49.12 billion in 2021 and is projected to grow at a compound annual growth rate (CAGR) of 5.8% over the forecast period. In recent years, handbags have become one of the desired personal products worldwide. The accessibility, visibility, and desirability of various handbags have boosted their widespread recognition and strong performance. Made from various materials like mesh, leather, nylon, straw, canvas, vegan leather, and jute, handbags are used by everyone for various purposes in their day-to-day life. For instance, people usually prefer canvas handbags for shopping; people working in the corporate sector usually prefer leather bags, whereas, for parties or a night out, women tend to opt for clutches or wristlet handbags.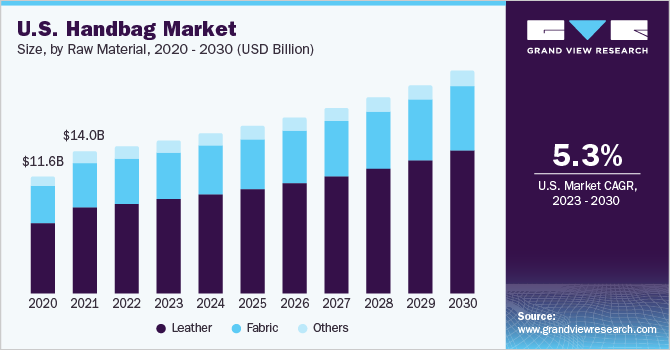 The COVID-19 pandemic resulted in lockdown orders and travel restrictions, forcing the majority of the global population to stay at home. As shopping outlets and offline retail stores remained closed for a substantial period in 2020, the fashion accessories & apparel, as well as luxury goods markets, saw a tremendous decline in the overall business. This was attributed to factors, such as restrictions on international import & export as well as tourism & travel and reduced spending on fashionable apparel and accessories by the majority of consumers. The demand for handbags is primarily driven by the increasing brand awareness among customers at a global level and the surging number of women in the workforce across various sectors.
Gather more insights about the market drivers, restraints, and growth of the Global Handbag Market
In addition, the increasing preference for sustainable and eco-friendly handbags among customers is offering strong growth opportunities to the market. Handbag manufacturers/brands, such as Bellroy, Angela Roi, ABLE, Pixie Mood, GUNAS, BAGGU, von Holzhausen, and A A K S, offer handbags that are made using vegan leather, plant-based & upcycled materials, and sustainable materials. For instance, in June 2020, Guccio Gucci S.p.A. launched all-sustainable collections that comprised outwear, pants, tote bags, backpacks, mini bags, footwear, and other accessories using recycled, organic, and sustainable source materials. These factors are driving the market. Furthermore, with increased spending on goods through online platforms, the market has been experiencing significant growth. Startup e-retailers and e-commerce websites have gained more traction owing to festive/seasonal sales, discounted prices, and the availability of an extensive range of products on websites. For instance, according to the data provided by Global WebIndex (GWI), over USD 2.4 trillion were spent on online consumer goods in 2020.
Browse through Grand View Research's Clothing, Footwear & Accessories Industry Related Reports
Belts And Wallets Market – The global belts and wallets market size was valued at USD 21.80 billion in 2022 and is expected to register a CAGR of 7.6% from 2023 to 2030.
Leather Goods Market – The global leather goods market size was valued at USD 242.85 billion in 2022 and is expected to expand at a compound annual growth rate (CAGR) of 6.6% from 2023 to 2030.
Handbag Industry Segmentation
Grand View Research has segmented the global handbag market based on raw material, product, distribution channel, and region:
Handbag Raw Material Outlook (Revenue, USD Million, 2017 – 2030)
Handbag Product Outlook (Revenue, USD Million, 2017 – 2030)
Tote Bag
Clutch
Satchel
Others
Handbag Distribution Channel Outlook (Revenue, USD Million, 2017 – 2030)
Handbag Regional Outlook (Revenue, USD Million, 2017 – 2030)
North America
Europe
Asia Pacific
Central & South America
MEA (Middle East & Africa)
Market Share Insights:
April 2021: Louis Vuitton launched Nona Source, the first online platform for resourcing exquisite materials from the Group's Fashion & Leather Goods Maisons.
Key Companies profiled:
Some prominent players in the global Handbag Industry include
Louis Vuitton
Hermès International S.A
Michael Kors
Fossil Group, Inc
Guccio Gucci S.p.A.
Prada S.p.A
Burberry Group Plc
Tapestry, Inc.
Chanel
Compagnie Financière Richemont SA
Order a free sample PDF of the Handbag Market Intelligence Study, published by Grand View Research.