Veterinary Lasers Market SWOT Analysis by Political, Legal, Economic and Technological Factor
San Francisco, Calif., USA, June 06 2023 — /EPR Network/ —
Veterinary Lasers Industry Overview
The global veterinary lasers market size was valued at USD 83.9 million in 2021 and is expected to expand at a compound annual growth rate (CAGR) of 7.7% from 2022 to 2030. Increasing demand for therapeutic lasers, technological advancements, strategic initiatives by key companies, and rising adoption of laser systems by veterinary care providers are some of the key drivers propelling the market growth. According to the American Veterinary Medical Association, the U.S. had about 118,624 veterinary practitioners in 2020. An increase in the number of veterinary hospitals and clinics is further fueling the market growth.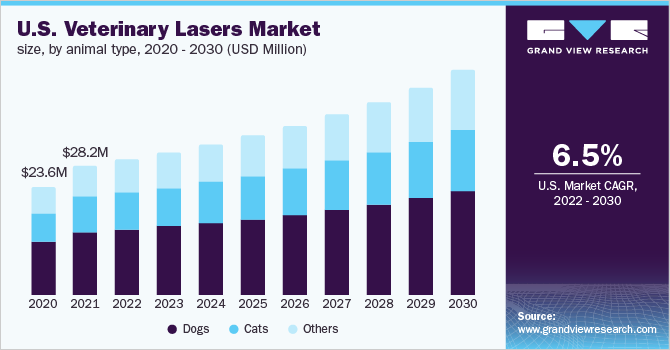 The COVID-19 outbreak had a significant influence on the market growth. The implementation of the lockdown and the limits on social interaction led to reduced sales. As a result of the restrictions, the market faced challenges like supply chain hurdles, operational challenges, reduced sales and marketing activities, reduced vet visits, and low sales. However, the market recovered in 2021 with the easing of restrictions. For instance, Iridex, specializing in glaucoma laser systems for human and veterinary applications, reported an increase in revenue during 2021. The company attributed the increase in revenue to the rebound from the downturn caused by the pandemic in 2020.
Gather more insights about the market drivers, restraints, and growth of the Global Veterinary Lasers Market
As more and more people are adopting pets, the market for veterinary lasers is expanding at a faster rate. The availability of a safe therapy that heals in a shorter amount of time and provides other advantages further drives the market. The availability of therapeutic lasers as a safe alternative to surgery and growing pet humanization is also contributing to the market growth. Pet humanization, for instance, has led to pet parents being increasingly sensitive and concerned about their pet's health. Pet parents are thus willing to opt for non-invasive treatment options for their pets for treating chronic conditions.
The growing clinical applications of veterinary lasers are driving the market. The CO2 laser from Aesculight, for example, is ideally indicated for soft-tissue surgeries. The product is increasingly used for incision, vaporization, ablation, excision, and coagulation of soft tissues. Laser systems are being used in various veterinary practice types, including general small animal practice, specialty practices, and referral practices (ophthalmology, dermatology, ENT, and other specialties). This is owing to the associated benefits of CO2 laser such as reduced pain and swelling, less bleeding, low risk of infection, and a quicker recovery.
Browse through Grand View Research's Animal Health Industry Related Reports
Veterinary CRO And CDMO Market – The global veterinary CRO and CDMO market size was valued at USD 5.80 billion in 2022 and is expected to grow at a compound annual growth rate (CAGR) of 8.94% from 2023 to 2030.
Veterinary Video Endoscopy Market – The global veterinary video endoscopy market size was valued at USD 188.95 million in 2022 and is estimated to expand at a compound annual growth rate (CAGR) of 7.77% from 2023 to 2030.
Veterinary Lasers Industry Segmentation
Grand View Research has segmented the global veterinary lasers market based on animal type, product, application, class type, end-use, and region:
Veterinary Lasers Animal Type Outlook (Revenue, USD Million, 2017 – 2030)
Veterinary Lasers Product Outlook (Revenue, USD Million, 2017 – 2030)
Therapeutic Lasers
Surgical Lasers
Veterinary Lasers Application Outlook (Revenue, USD Million, 2017 – 2030)
Pain & Inflammation Management
Regeneration/Tissue Repair
Others
Veterinary Lasers Class Type Outlook (Revenue, USD Million, 2017 – 2030)
Veterinary Lasers End-use Outlook (Revenue, USD Million, 2017 – 2030)
Veterinary Hospitals & Clinics
Others
Veterinary Lasers Regional Outlook (Revenue, USD Million, 2017 – 2030)
North America
Europe
Asia Pacific
Latin America
MEA (Middle East & Africa)
Market Share Insights:
May 2022: Eltech K-Laser s.r.l., based in Italy, expanded its presence in the Americas by opening an office in Miami, U.S. The company offers a range of veterinary lasers including the Cube line of High Power Lasers (HPL) and Speciale line of laser systems.
Key Companies profiled:
Some prominent players in the global Veterinary Lasers Industry include
SpectraVET
Aesculight
Excel Lasers Limited
IRIDEX Corporation
SOUND
Multi Radiance Medical
ASALaser
BIOLASE, Inc.
Cutting Edge Laser Technologies
Summus Medical Laser, LLC
Order a free sample PDF of the Veterinary Lasers Market Intelligence Study, published by Grand View Research.