Esports Market Segmentation, Outlook and Forecast Report By 2030
Esports Industry Overview
The global esports market was valued at USD 2,008.4 million in 2021. It is expected to expand at a compound annual growth rate (CAGR) of 21.9% from 2022 to 2030.
Increasing live streaming of games, formidable investments, rising audience reach, engagement activities, and infrastructure for league tournaments are the factors influencing the market growth. The profitable opportunities created by increasing professionalization in the industry for influencers, gamers, event organizers, and game developers benefit the market. Millennials consider esports a professional career option, owing to the increasing popularity of gaming tournaments, one-to-one sponsorships, streaming revenues, and impressive international prize pools. Additionally, colleges and universities have started providing dedicated esports programs to develop skilled professionals.
Gather more insights about the market drivers, restrains and growth of the Global Esports Market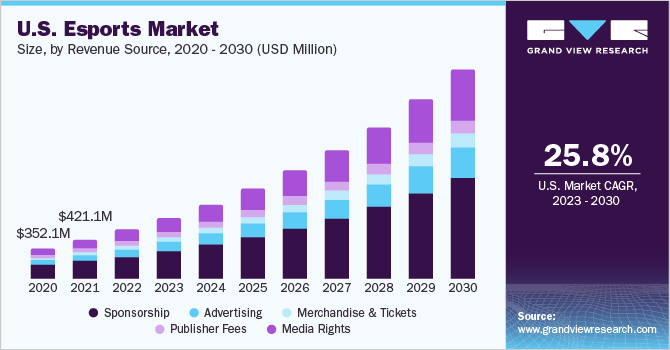 Ohio State University, Becker College in Massachusetts, and Virginia's Shenandoah University provide the esports degree course. Additionally, more than 100 high schools in the U.S. are conducting esports programs and other games such as traditional soccer. Some institutes are also providing scholarships to the players to increase the growth of the course; theUniversity of California Irvine is giving scholarships to the top 6 players.
Fewer organizations and limited tournament infrastructure resulted in more minor revenue streams for teams and players and restricted the market growth.
However, Riot Games formed the League of Legends for the Europe and North America region, providing an organized format for the tournament. Later, Activision Blizzard, Inc. introduced the overwatch league, providing essential infrastructure and revenue for the esports competitions. Hence, the league model in the tournaments has established numerous revenue sources for the esports ecosystem, promoting overall industry growth.
Dota2, Fortnite, League of Legends, and Counterstrike: Overwatch and Global Offensive are the gaming industry leaders. The video gaming industry has evolved from a hobby to a professional career option. The tournaments are attracting investors, including celebrities and international brands, as sponsors due to the immense engagement of fans for esports tournaments.
Over the past few years, increasing views and fan base has created new growth avenues and resulted in increased investment. In recent years, investments in this industry have made considerable progress as the ecosystem provides various investment options across various subsectors. The market mainly attracts traditional venture capital firms, strategic investors, and private equity.
In 2020, the market experienced a total investment of USD 2 billion, a rise of 116% compared to 2019. The investments in the esports market are expected to increase during the forecasted period owing to the increasing number of franchise-style leagues and rising audience. Investors' growing interest is likely to result in the market's steady growth in the estimated period.
The free-to-play gaming model has been found effective, with considerable in-game microtransactions fueling the companies' revenue, consequently supporting the industry growth. The games in the free-to-play gaming model have become popular as they have no upfront costs, and the fees are charged for featured or additional content. Counter-Strike: Global Offensive, League of Legends, and Fortnite are some games that feature microtransactions. The free-to-play model has promoted diversity and helped to bring young gamers together in the esports ecosystem resulting growth of the overall gaming population. Microtransactions have played a crucial role in the esports market, ensuing the overall revenue growth of the esports market.
The COVID-19 pandemic has affected multiple elements of human lives and has affected various business sectors. Various leagues and tournaments were postponed and canceled owing to COVID-19. Some organizers hosted the event on virtual platforms as the stadiums were closed. During COVID-19, 8% of live events were canceled, 53% of events were moved to virtual platforms, 26% of events were rescheduled, and 13% of events went ahead as scheduled. The market experienced moderate growth under all these circumstances in 2020.
For instance, EPICENTER Major 2020, Combo Breaker, the Pokémon Championship Series, and many other tournaments were scheduled between March and May are canceled. The cancellation of events affected ticket sales and merchandising, resulting in a downward trend in the first half of 2020. Several other tournaments were postponed, such as ESL Americas Pro League, California Overwatch League, ESL One Rio 2020 Counter-Strike, and others. Most of the events shifted to online mode due to lockdowns and quarantine, resulting in higher viewership on streaming platforms. Due to ease of lockdown and restrictions, the market has experienced steady growth in 2021. The rise in the number of investments is anticipated to fuel the further development of the market.
Browse through Grand View Research's Next Generation Technologies Industry Research Reports.
Sports Technology Market – The global sports technology market size was valued at USD 13.14 billion in 2022 and is expected to grow at a compound annual growth rate (CAGR) of 20.8% from 2023 to 2030.
Online Gambling Market – The global online gambling market size was valued at USD 63.53 billion in 2022 and is expected to grow at a compound annual growth rate (CAGR) of 11.7% from 2023 to 2030.
Market Share Insights
April 2022: Korean Esports Association(KeSPA) signed a three-year sponsorship deal with SK Telecom.
May 2021: North America Scholastic esports Federation partnered with Tallo. The partnership has built the largest virtual network of higher education institutes, young esports talent, and employers.
Key Companies profiled:
Some prominent players in the global esports market include
Activision Blizzard, Inc.
Electronic Arts Inc.
Gameloft SE
HTC Corporation
Intel Corporation
Modern Times Group (MTG)
Nintendo of America Inc.
NVIDIA Corporation
Tencent Holding Limited
Valve Corporation
Order a free sample PDF of the Esports Market Intelligence Study, published by Grand View Research.