Oral Rinse Market Regulatory Framework, Technology Overview, Product Type Estimates and Trends
San Francisco, Calif., USA, June 08 2023 — /EPR Network/ —
Oral Rinse Industry Overview
The global oral rinse market size was valued at USD 6.51 billion in 2021 and is expected to expand at a compound annual growth rate (CAGR) of 7.1% from 2022 to 2030. The rising awareness regarding oral hygiene, the increasing per-capita income of people to afford personal care products, and the increasing cases of dental disorders are expected to fuel the market growth over the forecast period. The prevalence of oral diseases is continuously increasing in low and middle-income countries due to the growing urbanization and eating habits.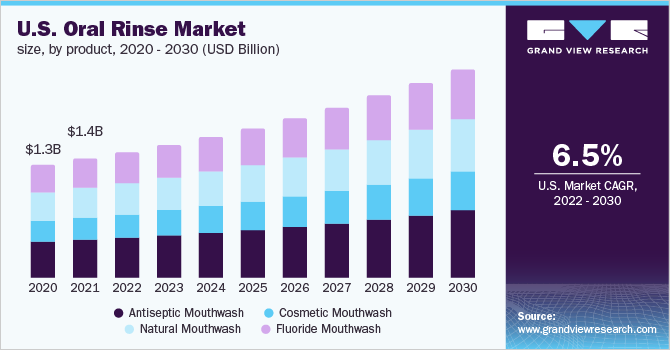 The COVID-19 pandemic had significantly affected the operations and logistics of the oral care products market. It had disrupted the supply channel of oral care products globally. The high demand for maintaining oral hygiene during the pandemic has increased the demand for rinse products and other oral care products in the second half of 2020. A study published in Virus Research found that mouthwash with a single-agent antiseptic mouthwash may be associated with a mild decrease in the rate of COVID-19 transmission. Hence, many market players have witnessed an increase in the sale of mouthwash products.
Gather more insights about the market drivers, restraints, and growth of the Global Oral Rinse Market
According to the WHO, 2 billion people suffer from caries of permanent teeth and 520 million children suffer from caries of primary teeth. Consumption of tobacco, alcohol, and food and beverages, which are high in sugar, has contributed to the growth of oral health conditions and other non-communicable diseases. Gum disease is one of the major problems among people. Nearly half of all adults aged 30 years or above show signs of gum disease and 9% of adults are affected by severe gum disease. The cost of dental services keeps many Americans from seeking dental care services. For instance, in 2018, around 10% of Americans did not receive dental services due to the high cost of the services.
Mouthwash is an important method for the maintenance of oral healthcare. mouthwash is mainly used to reach the inaccessible mouth areas that are difficult to clean with a toothbrush. It also helps in preventing caries and plaque formation. Mouthwash that is used for teeth whitening often contains hydrogen peroxide. Essential oils like eucalyptus oil, peppermint oil, and thyme oil are included in mouthwash products as a breath refresher.
Browse through Grand View Research's Medical Devices Industry Related Reports
Nano Dentistry Market – The global nano dentistry market size was valued at USD 838.53 million in 2022 and is expected to expand at a compound annual growth rate (CAGR) of 10.2% from 2023 to 2030.
Dental Laboratories Market – The global dental laboratories market size was valued at USD 30.0 billion in 2021 and is expected to expand at a compound annual growth rate (CAGR) of 5.4% from 2022 to 2030.
Oral Rinse Industry Segmentation
Grand View Research has segmented the global oral rinse market on the basis of product, indication, distribution channel, and region:
Oral Rinse Product Outlook (Revenue, USD Million, 2018 – 2030)
Antiseptic Mouthwash
Cosmetic Mouthwash
Natural Mouthwash
Fluoride Mouthwash
Oral Rinse Indication Outlook (Revenue, USD Million, 2018 – 2030)
Periodontitis
Mouth Ulcers
Gingivitis
Dry Mouth
Oral RinseDistribution Channel Outlook (Revenue, USD Million, 2018 – 2030)
Retail Stores
Pharmacies
Online Stores
Oral Rinse Regional Outlook (Revenue, USD Million, 2018 – 2030)
North America
Europe
Asia Pacific
Latin America
MEA (Middle East & Africa)
Market Share Insights:
February 2020: Colgate launched a new Colgate Zero portfolio, formulated for both adults and kids. It ensures the same high standard of Colgate protection with 0% artificial flavors, preservatives, and sweeteners.
Key Companies profiled:
Some prominent players in the global Oral Rinse Industry include
Colgate-Palmolive Company
Johnson & Johnson
GlaxoSmithKline
Unilever
Proctor & Gamble
Biotène
Himalaya Wellness Company
Amway
Dabur
Lion
Order a free sample PDF of the Oral Rinse Market Intelligence Study, published by Grand View Research.