Hard Kombucha Market Size Worth $273.2 Million by 2030
San Francisco, Calif., USA, May 23 2023 — /EPR Network/ —
Hard Kombucha Industry Overview
The global hard kombucha market size was valued at USD 40.9 million in 2021 and is expected to grow at a compound annual growth rate (CAGR) of 23.5% from 2022 to 2030. The rising adoption of moderate alcohol content beverages among consumers, especially millennials and the younger generation, is driving market demand. According to an article published in PennState Extension, in January 2020, approximately 64% of millennials prefer new beverages including kombucha compared to only 29% of baby boomers. Moreover, the reduction in alcohol consumption and the rise in sober-curious consumers have further increased the demand for low-alcohol beverages.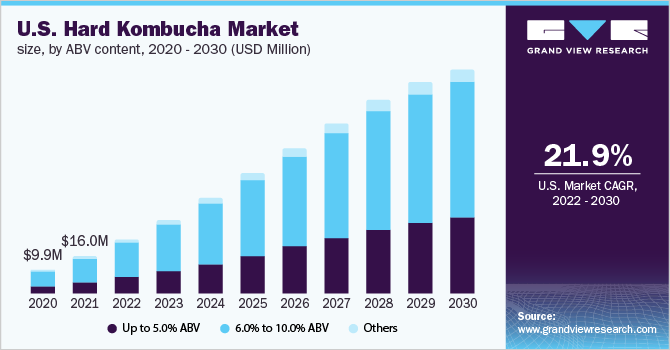 The outbreak of the COVID-19 pandemic has drastically impacted the consumption pattern of alcoholic beverages from high alcohol content to low alcohol content due to rising health consciousness among consumers. The sale of hard kombucha during the pandemic rose significantly through e-commerce channels due to stay-at-home orders around the world. For instance, in May 2020, Dubai-based organic kombucha company, Saba Kombucha, reported a 30% jump in online orders, owing to the unavailability of these beverages at retail stores. Furthermore, consumer shift towards ready-to-drink forms including kombucha will integrate well with the market growth in the forecast period.
Gather more insights about the market drivers, restraints, and growth of the Global Hard Kombucha Market
Shifting consumer preference towards health-based fermented drinks/beverages is expected to drive the product demand. These drinks contain probiotic bacteria, which help consumers overcome various issues, such as digestion and inflammation. Hence, key players in the market are launching products to cater to such requirements. For instance, in June 2020, JuneShine, a San Diego-based brand, launched JuneShine100, a 'better-for-you' alcoholic beverage with 100 calories, 1 gram of sugar per can, and an alcohol content of 4.2%. The company claims its product to be gluten-free, made with real fruit, and containing probiotics and antioxidants.
Moreover, the increasing consumer preference for multifunctional healthy halo beverages that not only fulfill their demands but also align with their keto and vegan diets will adapt well to the market growth. Many manufacturers have been offering products in this category. For instance, in July 2020, Flying Embers in partnership with Stick Figure launched a hard kombucha flavor – Mango Coconut with 7% ABV. The product claims to contain zero sugar and carbs, USDA-certified organic ingredients, and live probiotics. In addition, the drink is gluten-free, vegan, and keto-friendly, referring to the dietary requirements of the consumers.
Browse through Grand View Research's Pharmaceuticals Industry Related Reports
Fermented Tea Market – The global fermented tea market size was valued at USD 3.9 billion in 2020 and is expected to expand at a compound annual growth rate (CAGR) of 15.8% from 2021 to 2028.
Hard Seltzer Market – The global hard seltzer market size was valued at USD 8.95 billion in 2021 and is expected to expand at a compound annual growth rate (CAGR) of 22.9% from 2022 to 2030.
Hard Kombucha Market Segmentation
Grand View Research has segmented the hard kombucha market based on ABV content, distribution channel, and region:
Hard Kombucha ABV Content Outlook (Revenue, USD 000', 2017 – 2030)
Up to 5.0% ABV
6.0% to 10.0% ABV
Others
Hard Kombucha Distribution Channel Outlook (Revenue, USD 000', 2017 – 2030)
Hard Kombucha Regional Outlook (Revenue, USD 000', 2017 – 2030)
North America
Europe
Asia Pacific
Central & South America
Middle East & Africa
Market Share Insights:
April 2022: Hooch Booch, a hard kombucha brand based out of Denver, Colo., was launched in Minnesota.
June 2021: Sierra Nevada Brewery Co. expanded its line of "Strainge Beast" hard kombuchas, available in ginger, lemon, and hibiscus flavors
Key Companies profiled:
Some prominent players in the global Hard Kombucha market include
Remedy Drinks
Jiant
Flying Embers
JuneShine
Boochcraft
Kyla
Unity Vibration
Dr. Hops
Ventura Brewing Company
Allkind
Order a free sample PDF of the Hard Kombucha Market Intelligence Study, published by Grand View Research.