U.K. Digital Transformation Market Analysis and Comparison by end-user To 2030
U.K. Digital Transformation Industry Overview
The U.K. digital transformation market size was valued at USD 24.90 billion in 2021 and is expected to expand at a compound annual growth rate (CAGR) of 22.2% from 2022 to 2030.
The growth can be attributed to the increasing adoption of advanced technologies, such as the Internet of Things (IoT) and machine learning, and the growing use of mobile devices, smartphones, and applications across business functions. The outbreak of the COVID-19 pandemic has impelled several businesses to adopt cloud technology for remote working. As technology becomes more pervasive, organizations are demanding more robust security and privacy to prevent breaches. This has resulted in the increased adoption of cloud services to ensure business continuity and helps in establishing a customized network of digital transformation.
Gather more insights about the market drivers, restrains and growth of the U.K. Digital Transformation Market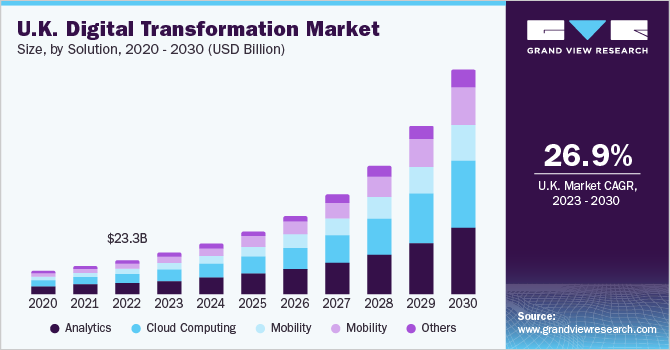 Several companies have started incorporating big data analytics, artificial intelligence, and other technologies into their existing servicing models to create new products and services and gain a competitive edge. In addition, the adoption of digital technologies offers numerous opportunities and enables customer-centric business models. For instance, Rolls-Royce Motors Cars Ltd, a British automobile company, used advanced analytics, industrial AI, and machine-learning techniques to develop data applications that unlock design, manufacturing, and operational efficiencies within Rolls-Royce, and create new service propositions for customers. This has contributed to the growing demand for technologies for digital transformation across different industry verticals.
The evolution of digital technologies, such as cloud computing, IoT, robotics, and cybersecurity has created the need for digitalization across several industries. IoT helps build smart products through new functionality, reliability, greater product capabilities, and product utilization. Many companies are considering IoT strategic tool for business scalability and are helping businesses generate new and innovative user experiences. As a result, companies are adopting digital transformation. For instance, KisanHub, a U.K.-based startup, uses satellite technology and in-field sensors to provide precise information on rainfall, irrigation, crop growth, wind speed, and cloud cover with the help of IoT. These developments are expected to boost the growth of the market.
The increasing demand for platform-independent or cross-platform applications from the education vertical translates into substantial growth opportunities for the digital transformation solution vendors. Several institutions have recognized the role technology can play in helping to plot a course through the changing landscape. For instance, in December 2018, The University of Nottingham, with three campuses across the world (U.K., China, and Malaysia), implemented Oracle's PeopleSoft Campus Solutions. These solutions are integrated systems that increase efficiencies, reduce costs, and improve the user experience for both employees and students. While the adoption of Massive Open Online Courses (MOOCs) has yet to make the breakthrough many predicted, institutions are investigating innovative teaching techniques combining digital technologies.
The transformative impact of digital technology in the U.K.'s retail sector is significant and growing due to the increasing penetration of IoT and the adoption of cloud services. According to Forrester, a research and advisory company, by 2021, 55% of European sales will involve digital touchpoints, whether through direct digital transactions or digital influence on in-store sales. For instance, Microsoft Corporation offers Microsoft Cloud for retail which brings together different data sources across the retail value chain, uniquely connects experiences across the end-to-end shopper journey, and delivers more relevant personalized experiences and operational excellence for sustained profitability. These will aid organizations in moving forward in their journey in digital transformation during the forecast period.
Browse through Grand View Research's Next Generation Technologies Industry Research Reports.
Artificial Intelligence Market – The global artificial intelligence market size was valued at USD 136.55 billion in 2022 and is projected to expand at a compound annual growth rate (CAGR) of 37.3% from 2023 to 2030.
Digital Transformation Market – The global digital transformation market size was evaluated at USD 731.13 billion in 2022 and is anticipated to witness a CAGR of 26.7% from 2023 to 2030.
Market Share Insights
February 2022: Deloitte Consulting, the U.K.-based professional services provider, announced the acquisition of National Tele Consultants (NTC), a technology firm with expertise in the domain of media and broadcast, to provide end-to-end digital transformations for the media supply chain.
Key Companies profiled:
Some prominent players in the U.K. digital transformation market include
Accenture PLC
Adobe Inc.
Roland Berger
Dell Inc.
Google LLC
Hewlett Packard Enterprise Development LP
International Business Machines Corporation
Microsoft Corporation
Oracle Corporation
Alvarez & Marsal
Order a free sample PDF of the U.K. Digital Transformation Market Intelligence Study, published by Grand View Research.