Retail Cooler Market Impact of COVID-19 and Sales/Retail Channel Analysis Report by 2030
San Francisco, Calif., USA, May 29 2023 — /EPR Network/ —
Retail Cooler Industry Overview
The global retail cooler market size was valued at USD 1.50 billion in 2021 and is expected to expand at a compound annual growth rate (CAGR) of 8.6% from 2022 to 2030. A rise in the popularity of outdoor recreational activities such as off-roading and hiking among travelers is driving the market. In addition, improved manufacturing technologies for lightweight chillers that can keep ice for an extended period will contribute to market expansion over the foreseeable future. However, the COVID-19 pandemic has impacted the growth of the market. In the wake of the COVID-19 pandemic, customers are willing to spend more time in nature through activities such as hiking, camping, fishing, boating, and cycling, which is boosting the market demand for retail coolers. For instance, according to Outdoor Industry Association, Americans took up new activities such as hiking, walking, and running during the COVID-19 period.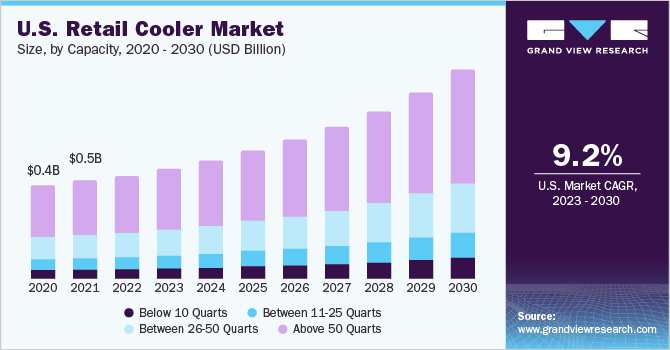 Moreover, polystyrene coolers are perceived negatively as most products made from the material are dumped in landfills. Polystyrene materials also occupy a disproportionate amount of space by volume in a landfill on account of their bulky nature. Polystyrene coolers take approximately 500 years to decompose completely. Polystyrene is built of multiple units of styrene, which is believed to be carcinogenic by the Department of Health and Human Services and the International Agency for Research on Cancer.
Gather more insights about the market drivers, restraints, and growth of the Global Retail Cooler Market
Additionally, the rising number of hypermarkets, specialty food stores, and supermarkets across the globe has significantly boosted the adoption of retail coolers. According to The Food Institute, Costco is expected to open around 22 new warehouses each year, with 75% of them located in the U.S. The retailer also plans to open three new stores in Bradenton, Florida; Bismarck, North Dakota; and Plainfield, Illinois. Similarly, Walmart invested billions in new stores and improvements throughout 2019.
An increasing number of companies are striving for innovation in the sustainable space, particularly when it comes to choosing materials. For instance, NIKU Farms, a Toronto-based meat delivery service, opted for a new biodegradable and compostable packaging material from KTM Industries for its insulated coolers in 2019. NIKU became the first meat delivery service company to use KTM's Green Cell Foam in Canada for its farm-to-door meat subscription boxes.
Browse through Grand View Research's Homecare & Décor Industry Related Reports
Dry-cleaning and Laundry Services Market – The global dry-cleaning and laundry services market size was valued at USD 69.3 billion in 2022 and is expected to grow at a compound annual growth rate (CAGR) of 7.0% from 2023 to 2030.
Cleaning Services Market – The global cleaning services market size was valued at USD 370.56 billion in 2022 and is expected to grow at a compound annual growth rate (CAGR) of 6.6% from 2023 to 2030.
Retail Cooler Market Segmentation
Grand View Research has segmented the global retail cooler market based on capacity, distribution channel, and region:
Retail Cooler Capacity Outlook (Revenue, USD Million, 2017 – 2030)
Below 10 Quarts
Between 11 to 25 Quarts
Between 26 to 50 Quarts
Above 50 Quarts
Retail Cooler Distribution Channel Outlook (Revenue, USD Million, 2017 – 2030)
Retail Cooler Regional Outlook (Revenue, USD Million, 2017 – 2030)
North America
Europe
Asia Pacific
Central & South America
Middle East & Africa
Market Share Insights:
March 2020: Lifoam Industries LLC launched a new temperature-controlled EnviroCooler packaging product. The new EnviroCooler EVG has been designed as part of its initiative to minimize plastic waste without affecting performance or end-user convenience.
January 2020: MacNeill Pride Group (MPG), a diversified global designer and manufacturer of sporting goods and related products, purchased ORCA Coolers, LLC. ORCA Coolers, LLC will continue to operate from its Nashville headquarters.
Key Companies profiled:
Some prominent players in the global Retail Cooler market include
Polar Bear Coolers
Lifoam Industries LLC
ORCA Coolers, LLC
Plastilite Corporation
ICEE Containers Pty Ltd.
Bison Coolers
Grizzly Coolers LLC
Huntington Solutions
The Coleman Company, Inc.
YETI Holdings, Inc.
Order a free sample PDF of the Retail Cooler Market Intelligence Study, published by Grand View Research.