Video Conferencing Market Extensive Company Profiles with Overview and Insights 2030
Video Conferencing Industry Overview
The global video conferencing market size was valued at USD 6.28 billion in 2021 and is expected to expand at a compound annual growth rate (CAGR) of 12.5% from 2022 to 2030.
The major factors contributing to the growth are the emerging trend of remote working, geographically scattered business operations, and increased globalization. Besides, the mounting demand for video conferencing solutions in the education and healthcare sectors is also stimulating the market expansion. The industry gained massive momentum in recent years, especially during the COVID-19 pandemic following the lockdown restrictions due to the dynamic rise in the adoption of video and teleconferencing solutions.
Gather more insights about the market drivers, restrains and growth of the Global Video Conferencing Market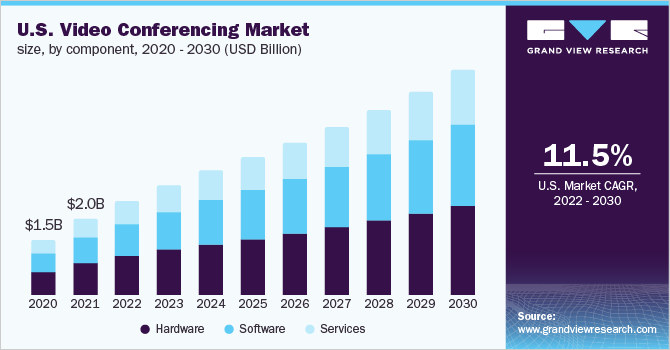 The sudden transition of various businesses to the work-from-home culture increased the demand for video conferencing software and services such as Zoom, Microsoft Teams, and Google Workspace. These platforms are witnessing a significant rise in the number of active users. In January 2022, Microsoft Teams recorded 270 million monthly active users, representing a 20 million rise as compared to that in July 2021.
The introduction of conferencing platforms based on machine learning and artificial intelligence (AI) is providing lucrative growth prospects for the market. These technologies are enabling companies to optimize the usage of collaboration platforms and enhance meeting efficiency by deploying facial recognition and virtual assistant technologies. AI in conferencing solutions helps organizations gain insights into the ideal number of participants, the optimal length of a meeting, and the appropriate time of the day to conduct a meeting. In October 2020, NVIDIA Corporation launched the NVIDIA Maxine platform, which offers a cloud-based range of GPU-powered AI video conferencing software to improve the streaming video.
Browse through Grand View Research's Communication Services Industry Research Reports.
Telecom API Market – The global telecom API market was valued at USD 185.11 billion in 2022 and is estimated to expand at a compound annual growth rate (CAGR) of 21.3% from 2023 to 2030.
Mobile Data Market – The global mobile data market size was valued at USD 565.6 billion in 2021 and is expected to expand at a compound annual growth (CAGR) of 6.9% from 2022 to 2028.
Market Share Insights
October 2020: Cisco Systems, Inc. announced the acquisition of BabbleLabs to enhance the functionality of its Cisco WebEx Platform through speech enhancement and noise removal technology.
Key Companies profiled:
Some prominent players in the global video conferencing market include
Avaya, Inc.
Cisco Systems, Inc.
Huawei Technologies Co., Ltd.
Logitech International S.A.
Microsoft Corporation
Polycom Inc.
Zoom Video Communications, Inc.
Order a free sample PDF of the Video Conferencing Market Intelligence Study, published by Grand View Research.