U.S. Magnesium Stearate Market Variables, Regional Trends and Future Scope Study
San Francisco, Calif., USA, June 08 2023 — /EPR Network/ —
U.S. Magnesium Stearate Industry Overview
The U.S. magnesium stearate market size was valued at USD 202.26 million in 2021 and is expected to expand at a compound annual growth rate (CAGR) of 4.0% in terms of revenue from 2022 to 2030. This growth of the market is attributed to the growing demand for nutraceutical products to boost immunity owing to the growing health consciousness among the consumers in the U.S. Steady growth in the demand for the product as a lubricant in the pharma and nutraceutical sector is likely to maintain consistency in the product demand.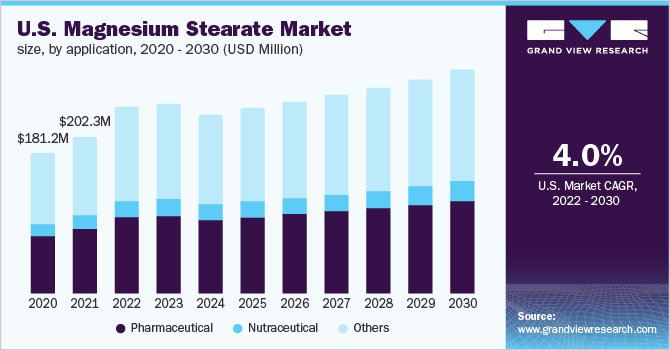 The U.S. is one of the largest pharmaceutical markets across the globe as it is home to leading pharma companies. The increasing geriatric population in the country and the growing focus of the masses on their health are driving the pharmaceuticals market which is expected to have a positive impact on the market for magnesium stearate in the coming years.
Gather more insights about the market drivers, restraints, and growth of the U.S. Magnesium Stearate Market
The market has experienced significant challenges owing to high raw material prices. The key raw material required in the production of the product is stearic acid. Stearic acid is a long-chain fatty acid that is obtained from animal fat and vegetable oils. Palm kernel oil is most prominently used in the production of stearic acid. Price fluctuations of palm kernel oil lead to instability in the cost of stearic acid, which in turn hampers the market. Apart from magnesium stearate, some of the commonly used substitutes include calcium stearate, zinc stearate, talc, hydrogenated vegetable oil, waxes, sodium stearyl fumarate, and glyceryl behenate.
The product is commonly produced as stearic acid, which is generally derived from palm oil and magnesium salts such as magnesium oxides, sodium stearate, magnesium hydroxides, and magnesium sulfate. Stearic acid, also known as octadecanoic acid, is a colorless waxy solid with long-chain fatty acid and an ester of fatty alcohol. It is primarily derived from animal fat. It can also be derived from vegetable oil, palm kernel oil, coconut oil, sunflower oil, rapeseed oil, and soybean oil.
Browse through Grand View Research's Organic Chemicals Industry Related Reports
Insoluble Sulfur Market – The global insoluble sulfur market size to be valued at USD 1.2 billion by 2027 and is expected to grow at a compound annual growth rate (CAGR) of 2.9% during the forecast period.
Acetic Acid Market – The global acetic acid market was valued at USD 20.6 billion in 2021 and is anticipated to witness a compound annual growth rate (CAGR) of 4.9% from 2022 to 2030.
U.S. Magnesium Stearate Industry Segmentation
Grand View Research has segmented the U.S. magnesium stearate market based on application by form:
U.S. Magnesium Stearate Application by Form Outlook (Volume, Tons, Revenue, USD Thousand, 2018 – 2030)
Pharmaceutical
Nutraceutical
Others
Market Share Insights:
February 2022: Acme Hardesty announced a new business unit under the name Life Sciences. The business unit would serve various new and expanding markets which would include pharmaceutical ingredients, food and beverages, animal feed and supplements, and nutritional supplements.
Key Companies profiled:
Some prominent players in the U.S. Magnesium Stearate Industry include
Mallinckrodt Pharmaceuticals
PMC Biogenix, Inc.
Barentz
DPL-US
Acme Hardesty
Valtris Specialty Chemicals
AIE Pharmaceuticals, Inc.
Norac Additives LLC
Faci S.p.A
James M. Brown Ltd.
Parchem Fine & Specialty Chemicals
Order a free sample PDF of the U.S. Magnesium Stearate Market Intelligence Study, published by Grand View Research.