Sustainable Growth Opportunities in the Brewing Enzymes Market
The market for brewing enzymes is estimated at USD 352.1 million in 2018, it is projected to reach USD 484.7 million by 2023, at a CAGR of 6.6%.
Northbrook, USA, 2020-Feb-10 — /EPR Network/ — The brewing enzymes market is estimated at USD 352.1 million in 2018. It is projected to reach USD 484.7 million by 2023, at a CAGR of 6.6% from 2018, in terms of value. The use of enzymes has become increasingly important in the brewing industry, as they accelerate the chemical reaction without a change in their own structure. To enhance the brewing process, commercial exogenous enzymes are used in various steps to make the brewing faster, easier, and more consistent. The demand for brewing enzymes in the beer segment is expected to witness significant growth in the near future, due to the rising popularity of beer consumption among young consumers, rise in technological innovations, and growth in the craft beer segment and number of microbreweries.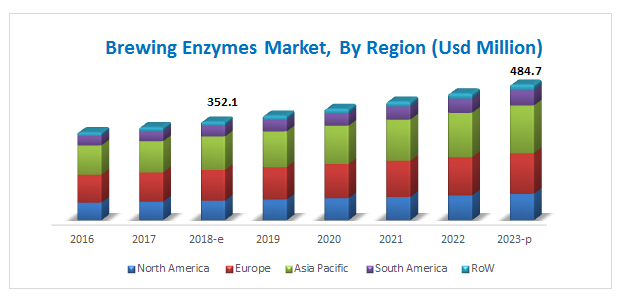 Drivers
Forecasted high cereal price trend
Despite the high production estimations for cereals, as per FAO estimates for 2017, their prices are expected to increase in the coming years owing to a forecasted downfall in output. Even with the improved availability of cereals and sugar in the global market, the price of both these commodities has seen a sharp rise. The FAO cereal index (a trade-weighted measure of the monthly change in international prices of food commodities namely sugar, cereals, dairy, meat, meat, and vegetable oils) also increased by 3.4% from December to a six month high.
Increasing per capita income driving beer consumption in the Asia Pacific
Rapid economic and income growth, urbanization, and globalization are leading to a dramatic shift in the cultural patterns in the Asia Pacific region. The fast pace of lifestyles and consumer willingness to try out new alcoholic beverages is identified as a factor responsible for increasing beer consumption and subsequently driving the demand for brewing enzymes. Higher levels of income are resulting in a higher demand for alcohol and subsequently driving the demand for beer and wine. The nominal per-capita income is estimated to grow at a CAGR of ~8%, which is expected to fuel the growth of the beer industry and is expected to result in high demand for brewing enzymes.
Download PDF Brochure: https://www.marketsandmarkets.com/pdfdownloadNew.asp?id=79318910
Opportunities
Demand for enzymes to increase beer manufacturing efficiency
Beer and wine manufacturers continue to look for advanced solutions to meet safety standards and increase productivity to meet the changes in consumer demand for beer and wine. Key beer and wine manufacturers are mostly focused on increasing the level of efficiency to grow their level of volumes for the production of beer. Brewers who seek raw material cost savings or use of local raw materials may source under-modified malts or increase the ration of adjunct. However, the limiting factor is to ensure an adequate complex of enzymatic activities for high-quality wort. Thus, with the intent of increasing efficiency and optimize raw material usage, many brewers are now focused on commercial enzymes to shorten production time, increase capacity, and for the use of raw material alternatives to malt.
Emerging economies with high growth potential.
The dominance of nuclear double-income families, especially in urban areas in emerging economies contributes to changes in lifestyles among consumers. Changes in consumption patterns have led to an increase in the demand for alcoholic beverages.
Speak to Analyst: https://www.marketsandmarkets.com/speaktoanalystNew.asp?id=79318910
The Asia Pacific is projected to be the fastest-growing regional market for brewing enzymes.
The Asia Pacific region is projected to be the fastest-growing market for brewing enzymes over the next five years, owing to an increase in overall economic growth, with diversity in income levels, technology, and demand from end consumers leading to enhanced scope for future growth. The main countries contributing significantly toward the growth of the market in this region are China, Japan, and Vietnam. The malt that is produced in China for beer production is facing a deficit in barley; hence, manufacturers are focusing on building malt production units due to the ongoing increase in domestic demand. Due to barley deficit in this region, commercial enzymes are added to improve the quality of the beer and to fulfill the domestic demand for beer, which drives the usage of enzymes in the brewing process.
This report studies the marketing and development strategies, along with the product portfolios of leading companies such as Novozymes (Denmark), DSM (Netherlands), DowDuPont (US), Amano Enzyme (Japan), Chr. Hansen (Denmark), Associated British Foods (UK), Kerry Group (Ireland), Brenntag (Germany), Enzyme Development Corporation (US), Aumgene Biosciences (India), Biocatalysts (UK), and Enzyme Innovation (US).