Petrochemicals Market Outlook, Current And Future Industry Landscape Analysis Report 2030
Petrochemicals Market Growth & Trends
The global petrochemicals market size is expected to reach USD 1,002.45 billion by 2030, as per the new report by Grand View Research, Inc. It is expected to expand at a CAGR of 6.2% from 2022 to 2030. The demand for petrochemicals is attributed to an increase in demand from the end-use industries such as construction, textile, medical, pharmaceuticals, consumer goods, automotive, and electronics.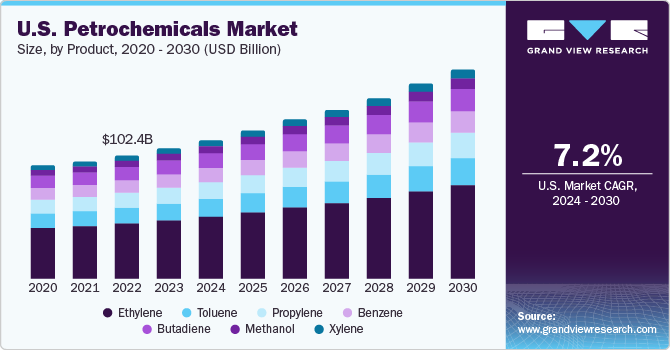 Petrochemicals Market Segmentation
Grand View Research has segmented the global petrochemicals market on the basis of product and region:
Based on the Product Insights, the market is segmented into Ethylene, Propylene, Butadiene, Benzene, Xylene, Toluene, Methanol.
Ethylene dominated the market with a revenue share of over 40.0% in 2021. This is attributed to an increase in demand for ethylene from various industries such as construction, packaging, and transportation. Ongoing industrialization and flourishing automotive and packaging sectors in emerging economies such as India, Brazil, Vietnam, and Thailand are expected to fuel the consumption of ethylene in the countries over the forecast period. Surged use of polyethylene, High-density Polyethylene (HDPE), and Low-density Polyethylene (LDPE) is expected to foster the overall growth of the market for petrochemicals.
The methanol segment is predicted to register the highest revenue-based CAGR of 7.8% over the forecast period. Methanol is used as a feedstock for producing acetic acid and formaldehyde, which are used in foams, adhesives, foams, solvents, plywood subfloors, and windshield washer fluids. The demand for methanol is predicted to witness growth on account of its high demand in several end-use industries such as construction, paints and adhesives, pharmaceuticals, plastics, and automotive.
Butadiene was the second-largest product segment in 2021, in terms of revenue. It is majorly utilized as a chemical intermediate and a monomer during the production of polymers such as styrene-butadiene rubber (SBR), Polybutadiene Rubber (PBR), Polychloroprene (PBR), and Nitrile Rubber (NR). Butadiene derivatives have witnessed a significant increase in demand specifically in China, India, and other Asian countries owing to the flourishing end-use industries such as automobile, consumer goods, and construction.
Petrochemicals Regional Outlook
North America
Europe
Asia Pacific
Latin America
Middle East & Africa
Key Companies Profile & Market Share Insights
The rising demand for petrochemicals in various applications such as automobiles, packaging, household goods, and medical equipment is a key factor encouraging the manufacturers operating in this segment to increase their production capacity across the globe.
Some of the prominent players operating in the global petrochemicals market include,
BASF SE
Chevron Corporation
China National Petroleum Corporation (CNPC)
China Petrochemical Corporation
Exxon Group Ltd.
INEOS Group Ltd.
LyondellBasell Industries Holdings B.V.
Royal Dutch Shell PLC
Order a free sample PDF of the Petrochemicals Market Intelligence Study, published by Grand View Research.