Global Smart Antenna Market Size is predicted to reach USD 14.49 billion by 2030
San Francisco, Calif., USA, May 25 2023 — /EPR Network/ —
Smart Antenna Industry Overview
The global smart antenna market size was valued at USD 6.37 billion in 2021 and is anticipated to expand at a CAGR of 9.68% from 2022 to 2030. Smart antennas can receive and decode most types of signals without any errors. The market is rapidly growing as the technology allows for secure and high-speed two-way communication. Modern technological application means industries are fully dependent on fast two-way communication which increases the demand for the smart antenna market. The market continues to expand with the application of 5G millimeter-wave radio frequencies. As the world is digitally connected the need for long-range, encrypted data transfer has risen. This has created a strong demand for the market in developed and developing countries.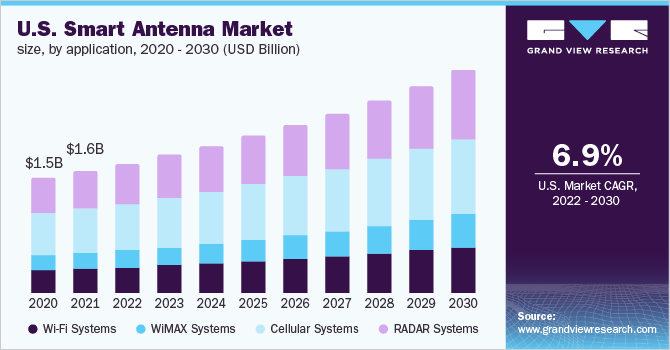 The market has also created opportunities for manufacturing and maintenance systems to maintain the upkeep of the products. As this market is a technical industry, product development is gradual and directly proportional to technological advances. The market is mainly targeted at the commercial industry and has widespread applications.
Gather more insights about the market drivers, restraints, and growth of the Global Smart Antenna Market
The global smart antenna was impacted drastically as a result of the COVID-19 pandemic outbreak. The technology was in demand during the early stages of the pandemic as it enabled secure and fast remote work solutions, however, the production of smart antennas was affected as a direct result of lockdowns and factory shutdowns. However, since then, the market has created an opportunity of the crisis to expand the market to untapped regions. The market has also introduced compatibility for future frequencies making their products more long-lasting and appealing.
In India, industries and companies are undergoing the process of replacing their old standard antenna systems with modern smart antennas to keep up with the dynamic and significantly heavy usage of services. The information and communications technology industry has used smart antennas to create their own custom and unique use case and solutions. The low cost of manufacturing and labor in developing countries like India and China has created a big boom in the smart antenna market in those regions. The application of smart antennas is also higher in these regions as they are still using older generation frequencies as compared to the western world.
Browse through Grand View Research's Next Generation Technologies Industry Related Reports
Super High Frequency Communication Market – The global super high frequency communication market size was valued at USD 1.98 billion in 2021 and is expected to expand at a compound annual growth rate (CAGR) of 16.0% from 2022 to 2030.
Satellite Communication Market – The global satellite communication market size was valued at USD 71.6 billion in 2021 and is expected to expand at a compound annual growth rate (CAGR) of 9.5% from 2022 to 2030.
Smart Antenna Industry Segmentation
Grand View Research has segmented the global smart antenna market based on application, technology, and region:
Smart Antenna Application Outlook (Revenue, USD Million, 2018 – 2030)
Wi-Fi Systems
WiMAX Systems
Cellular Systems
RADAR Systems
Smart Antenna Technology Outlook (Revenue, USD Million, 2018 – 2030)
Smart Antenna Regional Outlook (Revenue, USD Million, 2018 – 2030)
North America
Europe
Asia Pacific
Rest of the World
Market Share Insights:
April 2022: Hemisphere GNSS signed a distribution deal with Volvo Construction Equipment to distribute their new S631 GNSS smart antennas with control and data transfer solutions to construction companies.
Key Companies profiled:
Some prominent players in the global Smart Antenna Industry include
Airgain, Inc.
Broadcom Inc.
Intel Corporation
Linx Technologies
Motorola Solutions, Inc.
Qualcomm Technologies, Inc.
Sierra Wireless
Telstra
Texas Instruments Incorporated
Trimble, Inc.
Order a free sample PDF of the Smart Antenna Market Intelligence Study, published by Grand View Research.