Healthcare Cloud Infrastructure Market Research Methodology, Drivers, Opportunities 2030
Healthcare Cloud Infrastructure Industry Overview
The global healthcare cloud infrastructure market size was valued at USD 56.3 billion in 2022 and is expected to expand at a compound annual growth rate (CAGR) of 16.7% from 2023 to 2030.
The growing trend of digitalization of healthcare, the integration of advanced AI/ML algorithms, cloud deployment of healthcare systems, rising expenditure, inefficient facility management, and overburdened systems are creating a surge in demand for healthcare cloud infrastructure. Care facilities would be able to integrate and streamline their workflows, drive their operational and functional outcomes, enhance data management and security, and deliver optimum care. It is anticipated to boost the adoption and demand for these cloud infrastructure systems and bolster market growth.
Gather more insights about the market drivers, restrains and growth of the Global Healthcare Cloud Infrastructure Market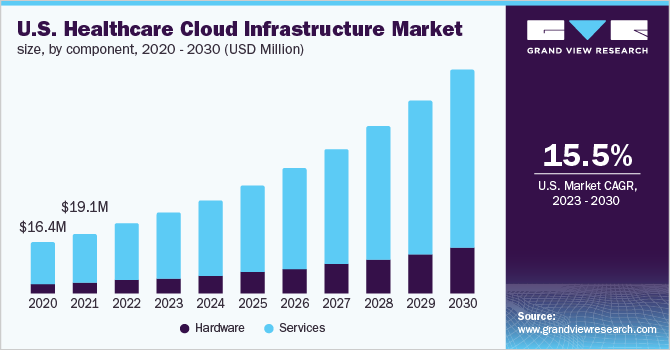 The market for healthcare cloud infrastructure increased by 9.7% from 2019 to 2020. The market is estimated to witness a y-o-y growth of approximately 16.7% to 17.5% in the next 5 years. The pandemic positively impacted the demand for advanced cloud infrastructure and solutions due to the rise in the implementation of these systems across several organizations. The Covid-19 pandemic has upended how businesses function and has overburdened back-end support services and increased traffic on networks.
Resilient and scalable IT computing solutions are paving the path to meet the growing demand for these advanced technologies. The pandemic led to remote working and relying on virtual digital events, which significantly increased the demand for cloud infrastructure implementation. Clinical providers are rapidly adjusting to adopt these advanced solutions. Furthermore, the implementation of these systems and solutions allows organizations to drastically cut down on their IT spending and focus on seamlessly remote working.
The increasing access of the healthcare industry to advanced technological solutions and the rise in the adoption of cloud computing to reduce costs and improve flexibility, storage, and scalability are expected to fuel the market growth. The growing IT infrastructure in developed countries is one of the key factors driving the demand. Care facilities are burdened with the growing patient population and volume of patient information and demand real-time data access and integration of data. The potential of the healthcare IT industry is attracting public and private investments, which are expected to positively impact market growth.
In the last quarter of 2017, the University of Pittsburgh Medical Center (UPMC) announced an investment of USD 2 billion to digitally transform all their hospitals, especially UPMC Vision & Rehabilitation Hospital, UPMC Hillman Cancer Hospital, and UPMC Heart and Transplant Hospital. Organizations are using cloud-deployed data dashboards to deliver real-time data visualizations and analytics for enhanced data management. For example, The Australian Department of Health initiated the Coronavirus Australia App in March 2020, utilizing Google Cloud to convey real-time information about virus spread trends, lockdowns and regulations, and Covid-19 specific healthcare details.
The rising demand for cost-effective healthcare services, growing demand for technological solutions, increasing need for high information mobility, growing government initiatives and incentives, and growing funding to implement hospital cloud computing technologies in care facilities are expected to drive the market. Cybercrimes and privacy threats are some of the main concerns restraining the market growth. Cloud infrastructure has been forming the base for recent advancements in the field of telemedicine, digital medical libraries, and management information systems.
The ongoing Covid-19 pandemic has only reassured the need for advanced computing technologies to adhere to successful digital transformations. Furthermore, the adoption of these advanced systems allows organizations to improve cost optimization and leverage these systems to efficiently handle rising network traffic, enhance resource management, and mitigate risks. Organizations are adopting the hybrid cloud model strategy to integrate operations and functions across multiple clouds. A growing need to adopt secure and scalable IT infrastructure in healthcare organizations to manage and maintain patient data.
Business organizations are rapidly implementing advanced computing systems and solutions to digitally transform their businesses, streamline their workflow, and reduce the burden on networks. The market is fragmented and some of the key players providing these solutions are IBM, Microsoft, Oracle, Salesforce, and Amazon. Companies are entering technological collaborations to expand and co-develop innovative products and solutions. In January 2022, IBM agreed to sell its Watson Health data and assets to an investment firm, Francisco Partners, which could have been a part of an effort to expedite IBM's operations while also focusing the company on cloud computing.
Browse through Grand View Research's Renewable Energy Industry Research Reports.
Healthcare IT Market – The global healthcare IT market size was valued at USD 167.7 billion in 2022 and is projected to exhibit a CAGR of 17.9% in the forecast period.
Telemedicine Market – The telemedicine market size was valued at USD 70.4 billion in 2021 and is estimated to grow at a compound annual growth rate (CAGR) of 19.5% from 2022 to 2030.
Market Share Insights
February 2022: Lyniate obtained SAP SE with the objective of bringing technology and management consulting expertise to clients in order to help them adopt a hybrid cloud framework and move mission-critical workflow from SAP solutions towards the cloud for regulated as well as non-regulated businesses.
February 2022: IBM procured Neudesic, LLC with the objective of increasing IBM's portfolio of hybrid multi-cloud services and furthering the firm's hybrid cloud and AI strategy.
Key Companies profiled:
Some prominent players in the global healthcare cloud infrastructure market include
Dell, Inc.
Hewlett Packard Enterprise Development LP
Microsoft
Oracle
IBM
Salesforce
Amazon
Order a free sample PDF of the Healthcare Cloud Infrastructure Market Intelligence Study, published by Grand View Research.