Catheter Market Top Companies, Research Methodology, Drivers, Opportunities 2030
Catheter Industry Overview
The global catheter market size was valued at USD 48.4 billion in 2021 and is expected to expand at a compound annual growth rate (CAGR) of 6.5% from 2022 to 2030.
The high prevalence rate of chronic disorders leading to hospitalization has fueled the growth of the market. In addition, an increase of midscale catheter manufacturers towards gaining a higher market share as well as a rise in funding by various government bodies toward R&D activities is expected to promote market growth during the forecast period. The COVID-19 is expected to have a positive impact on market. According to National Center for Biotechnology Information, in 2020, both urinary catheter and central line Standardized Utilization Ratio (SUR) increased during the COVID-19 outbreak.
Gather more insights about the market drivers, restrains and growth of the Global Catheter Market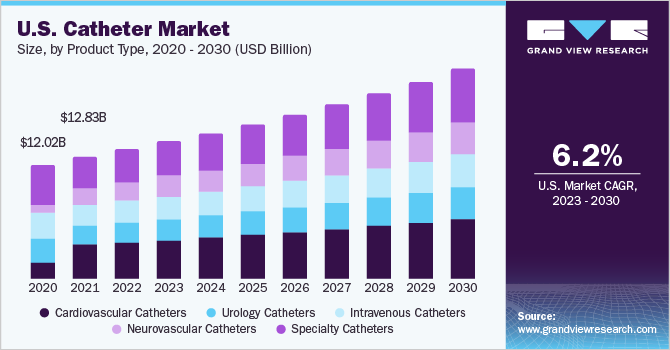 From 0.88 before the COVID-19 pandemic to 0.92 during the outbreak, the central line SUR increased by 4.9%. SUR of urinary catheters increased by 7.4% during the pandemic, from 0.79 before COVID-19 to 0.84 after COVID-19. This is projected to boost market growth over the forecast period. Moreover, the pandemic has brought attention to the critical need for infection prevention.
As a result, several manufacturers are developing products such as coated urine catheters with temperature monitoring for ICU patients as a stronger protection against secondary infections, which is expected to boost market growth. For instance, in February 2021, Health Canada has approved Bactiguard's urine catheter with temperature sensor for infection prevention. COVID-19 prompted the approval because Bactiguard's catheters can lower the incidence of secondary infections in critically ill patients, boosting market growth.
An increasing number of surgeries due to a rise in the number of chronic ailments is expected to increase the adoption rate of catheters, which will drive the market growth. However, repeated use of catheters can lead to catheter-associated urinary tract infections (CAUTIs) and central line-associated bloodstream infections (CLABSIs). Patients suffering from chronic disorders usually have weak immune systems and require frequent hospitalization in healthcare facilities. The patients are at high risk of infection due to frequent use of the catheter to access the blood vessels. Therefore, companies introduced antimicrobial catheters to reduce catheter-associated infection and the growing cases of thrombosis. Silver ion and Palindrome HSI heparin-coated antimicrobial catheters by Medtronic are a few notable antimicrobial catheters. Additionally, this type of catheter also helps to reduce the probability of clot formations and microbial colonization on the catheter's surface. Also, Silver ion or antibiotic coatings are used at the exit site of the catheter or locking the tip with an anti-microbial solution. Thus, the catheters coated with anti-microbial linings are likely to boost the catheter market growth.
Furthermore, the growing demand for minimally invasive procedures due to the recent technological innovations is expected to increase the sale of catheters in the market. Use of antimicrobial coating and miniaturized catheters to prevent the cases of restenosis, the reoccurrence of the narrowing of a blood vessel at the later stage can be treated. The peripheral diseases are further interlinked with other chronic conditions such as diabetes. These procedures have higher adoption rates and are becoming standard techniques in general surgery due to the use of advanced technologies and innovative coated catheters available in the market. For instance, the growing demand for angioplasty over conventional surgeries owing to its minimally invasive nature and improved outcomes has gained significant popularity among patients to opt for minimally invasive procedures. This is expected to favor the catheter market growth.
Countries such as U.S. and Canada have witnessed a high prevalence rate of chronic disorders owing to sedentary lifestyles. In addition, the increasing number of patients undergoing surgeries, and rising consumer awareness of minimally invasive surgeries are also contributing to the catheter market growth in these countries. According to CDC, heart diseases account for one in every four deaths in the U.S. Some of the major causes of heart diseases are obesity, poor diet, physical inactivity, excessive alcohol consumption, hypertension, high cholesterol levels, and smoking. About 50% of Americans exhibit at least one of these risk factors. Similarly, as per the IHME data published in 2017, ischemic heart disease was the leading cause of deaths and disabilities in Canada. Thus, growing cases of peripheral artery disease, occlusions in the blood vessels, and awareness of minimally invasive surgeries expand the use of catheters in these countries.
Moreover, with the growing incidence of urological disorders such as chronic kidney diseases and the same being the third most dominant cause of hospital admissions, thereby, there is an increasing need for awareness of the population regarding preventive measures. For instance, Wagner's Chronic Care Model, which puts forward an informed patient to produce productive interactions leading to improved outcomes, offers a theoretical framework on how chronic kidney disease awareness could arise. Thus, such awareness models increase patient-provider communication, as well as individual awareness. This would eventually boost the growth of the market over the forecast period.
Browse through Grand View Research's Medical Devices Industry Research Reports.
Urinary Catheters Market – The global urinary catheters market size was valued at USD 5.03 billion in 2021 and is expected to expand at a compound annual growth rate (CAGR) of 5.39% from 2022 to 2030.
Orthopedic Implants Market – The global orthopedic implants market size was valued at USD 33.5 billion in 2022 and is expected to expand at a compound annual growth rate (CAGR) of 6.3% from 2023 to 2030.
Market Share Insights
March 2019: Premier Inc. has a network alliance of around 4,000 U.S. hospitals and integrated supply chain, advisory, and data analytics solutions which would be utilized in increasing agreements for Coloplast at lower costs.
Key Companies profiled:
Some prominent players in the global catheter market include
Hollister Incorporated
Medtronic
Boston Scientific Corporation
Edwards Lifesciences
Smith Medical Inc.
Teleflex Incorporated
ConvaTec Group Plc
Cure Medical LLC
Order a free sample PDF of the Catheter Market Intelligence Study, published by Grand View Research.