Global In Vivo CRO Market size is expected to reach USD 7.92 billion by 2030
San Francisco, Calif., USA, June 02 2023 — /EPR Network/ —
In vivo CRO Industry Overview
The global in vivo CRO market size was valued at USD 3.9 billion in 2021 and is anticipated to exhibit a compound annual growth rate (CAGR) of 8.2% over the forecast period. The rising demand for advanced drugs, implementation of international standards by CROs, and rise in outsourcing of R&D activities by major pharmaceutical companies to focus more on their core competencies are driving the market growth. Moreover, outsourcing is more beneficial than conducting the in-house study, in terms of cost. This is expected to boost the demand for in vivo CROs. The use of in vivo in COVID-19 research studies is growing significantly for the development of antiviral drugs and vaccines. Also, K18-hACE2 transgenic mice were regarded as one of the best COVID-19 models.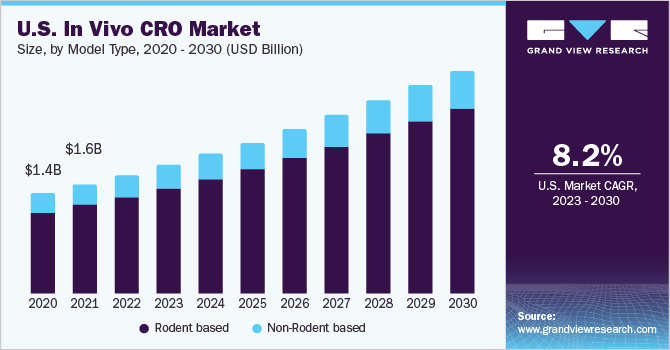 The demand for a large number of animal models has increased rapidly across the globe to ensure the safety and efficacy of new entities before human trials. As a result, the adoption of these animal models in research facilities has boosted the market growth, closely emulating the clinical manifestation of SARS-CoV-2. Obesity is the most common cause of insulin resistance. According to a study published in 2019 by the National Center for Biotechnology Information (NCBI), approximately 39% of people worldwide are obese or overweight and at risk of developing Type 2 Diabetes Mellitus (T2DM). T2DM is distinguished by a progressive decline in beta-cell function and insulin resistance.
Gather more insights about the market drivers, restraints, and growth of the Global In vivo CRO Market
Diabetes mellitus affects nearly one in every eleven adults worldwide, according to the International Diabetes Federation (IDF). To investigate the molecular and cellular mechanisms of T2DM and to optimize novel drugs for human use, an animal experimental model should be chosen. T2DM animal models commonly include -cell failure and/or insulin resistance models. Despite advancements in cell-based applications, metabolic evaluation of compound effects in vivo models is critical before drugs are considered for clinical evaluation and commercialization. The increase in the use of different models in animals would spurge market growth.
Over the last two years, the pandemic has caused unprecedented disruption in research and clinical trials. In November 2021, 1,079 clinical trials supported by sponsors, collaborators, or CROs were reported to have been disrupted due to the COVID-19 pandemic. In 2021, oncology was the most impacted therapy area, accounting for nearly a quarter of all disrupted trials as of June 2021. The disruptions in the clinical trials would impact the in vivo studies market. However, according to a recent Outsourcing-Pharma survey, sponsors increased CRO outsourced trial spending in 2021 compared to the previous year. Most of the investments are being spent on increasing CRO support, especially technology-based solutions to expand patient reach and engagement.
Browse through Grand View Research's Medical Devices Industry Related Reports
Preclinical CRO Market – The global preclinical CRO market size was valued at USD 5.28 billion in 2022 and is expected to grow at a CAGR of 7.9% from 2023 to 2030.
Biopharmaceutical CMO And CRO Market – The global biopharmaceutical CMO and CRO market size was valued at USD 32.4 billion in 2022 and is anticipated to grow at a compound annual growth rate (CAGR) of 5.9% from 2023 to 2030.
In vivo CRO Industry Segmentation
Grand View Research has segmented the global in vivo CRO market based on GLP type, type, indication, and region:
In Vivo CRO Type Outlook (Revenue, USD Million, 2018 – 2030)
Rodent-based
Non-Rodent Based
In Vivo CRO GLP Type Outlook (Revenue, USD Million, 2018 – 2030)
In Vivo CRO Indication Outlook (Revenue, USD Million, 2018 – 2030)
Autoimmune/Inflammation Conditions
Pain Management
Oncology
CNS Conditions
Diabetes
Obesity
Others
In vivo CRO Regional Outlook (Revenue, USD Million, 2018 – 2030)
North America
Europe
Asia Pacific
Latin America
MEA (Middle East & Africa)
Market Share Insights:
March 2019: Charles River Laboratories entered into a licensing agreement with Crown Bioscience—a drug discovery & development services provider. The agreement was aimed at providing the company a license to breed and distribute the Zucker Diabetic Sprague Dawley rat model.
Key Companies profiled:
Some prominent players in the global In vivo CRO Industry include
Covance, Inc.
Theorem Clinical Research
WuXi AppTec, Inc.
inVentiv Health
Evotec (US), Inc.
Charles River Laboratories
Order a free sample PDF of the In vivo CRO Market Intelligence Study, published by Grand View Research.