Long Term Care Market Production Scenario, Technological Assessment and Value Chain Analysis
San Francisco, Calif., USA, June 07 2023 — /EPR Network/ —
Long Term Care Industry Overview
The global long-term care market size was valued at USD 1.11 Trillion in 2022 and is expected to register a compound annual growth rate (CAGR) of 6.62% during the forecast period. The long-term care (LTC) market is majorly driven by the rise in the global geriatric population. Moreover, an increase in life expectancy impels the need for LTC services. The unmet needs of the elderly are also contributing factors to market growth. With the provision of personal care at home, unnecessary hospitalization is avoided thus preventing the patients from its high cost and from the degrading quality of life.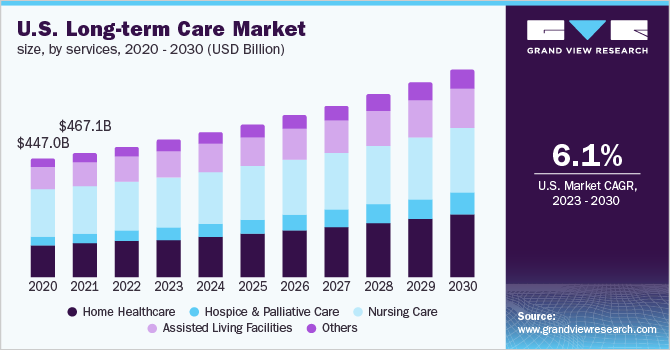 The increase in the population of older individuals is a major concern in many countries across the globe. The last baby boomers generation reached an age span of 52 to 70 years in 2016, which is the largest aged cohort so far. More than 54% of the geriatric population is concentrated in only six countries-China, the U.S., India, Japan, Germany, and the Russian Federation. This has increased the pressure on the governments of these countries to provide them with care services. Governments of these countries are reforming their healthcare systems to provide the care needed by senior citizens at affordable prices. The U.S. government supports LTC for elders through Medicare and Medicaid systems. These factors are expected to fuel the growth of the LTC market during the forecast period.
Gather more insights about the market drivers, restraints, and growth of the Global Long Term Care Market
The prevalence of chronic diseases is increasing at a significant pace. Along with general age-related disability, the elderly also suffer from chronic diseases such as cancer, heart problems, diabetes, dementia, Alzheimer's, and mental stress. Hospitalization for chronic conditions can be expensive and entail unnecessary use of resources, which can be utilized by patients in critical conditions. LTC provides specialized care required by the elderly and increasing awareness about these centers as well as their advantages over hospitals is expected to impel market growth.
Another key driving factor in the expansion of the long-term care industry is technological advancement in healthcare delivery. Initially, durable medical devices such as wheelchairs, walkers, and safety blankets were predominantly used for care management. During the forecast period, the market is estimated to be driven by the development of sophisticated user-friendly products and services such as internet-enabled home monitoring, telemedicine, and mobile health apps.
Browse through Grand View Research's Medical Devices Industry Related Reports
Contrast Media Market – The global contrast media market size was valued at USD 4.04 billion in 2021 and is expected to expand at a compound annual growth rate (CAGR) of 3.33% from 2022 to 2030.
Medical Lifting Sling Market – The global medical lifting sling market size was valued at USD 814.8 million in 2021 and is expected to grow at a compound annual growth rate (CAGR) of 8.5% from 2022 to 2030.
Long Term Care Industry Segmentation
Grand View Research has segmented the global long-term care market based on service and payer:
Long-term Care Service Outlook (Revenue, USD Billion, 2017 – 2030)
Home Health Care
Hospice & Palliative care
Nursing Care
Assisted Living Facilities
Others
Long-term Care Payer Outlook (Revenue, USD Billion, 2017 – 2030)
Public
Private
Out of Pocket
Long Term Care Regional Outlook (Revenue, USD Billion, 2017 – 2030)
North America
Europe
Asia Pacific
Latin America
MEA (Middle East & Africa)
Market Share Insights:
July 2021: HCA Healthcare completed a USD 400 million acquisition of Brookdale Senior Living's home care and hospice & palliative care business segment as the hospital chain prepares to expand into the home care industry.
February 2021: To increase its footprint in the U.S., Atria Senior Living, Inc. assumed administration of 21 Independent Living locations across nine states owned by New Senior Investment Group, Inc.
Key Companies profiled:
Some prominent players in the global Long Term Care Industry include
Brookdale Senior Living, Inc.
Sunrise Carlisle, LP
Atria Senior Living Group
Extendicare, Inc.
Capital Senior Living
Diversicare Healthcare Services Inc.
Kindred Healthcare, Inc.
Genesis Healthcare Corp.
Senior Care Centers of America
Home Instead Senior Care, Inc.
Amedisys, Inc.
Order a free sample PDF of the Long Term Care Market Intelligence Study, published by Grand View Research.