Handbag Industry Growth Restraint Analysis and Opportunities Outlook, 2023 – 2030
Handbag Industry Data Book Covers Tote Handbag, Clutch Handbag, and Satchel Handbag Market
The global Handbag Industry was estimated at USD 40,431.9 million in 2022 and is anticipated to increase at a significant CAGR of 6.1% from 2023 to 2030.
Grand View Research's handbag industry data book is a collection of market sizing information & forecasts, trade data, pricing intelligence, competitive benchmarking analyses, macro-environmental analyses, and regulatory & technological framework studies. Within the purview of the database, such information is systematically analyzed and provided in the form of outlook reports (1 detailed sectoral outlook report) and summary presentations on individual areas of research.
Tote Handbags Market Insights
The global Tote Handbags Market size was valued at USD 21,186.7 million in 2022 and is expected to expand at a compound annual growth rate (CAGR) of 5.8% from 2023 to 2030. Tote bags are generally larger in size compared to other handbags, providing ample space to carry essentials such as laptops, books, gym clothes, groceries, or even beach accessories. Their roomy interior makes them ideal for everyday use and practical for various activities. Korean fashion and aesthetics have gained significant popularity among younger consumers worldwide. Tote bags align well with the minimalist, practical, and stylish aspects of Korean fashion trends, contributing to their increased demand.
Leather is a durable material known for its longevity. Leather tote bags are designed to withstand regular use and can handle the wear and tear of everyday life. The high-quality craftsmanship associated with leather goods ensures that these handbags can last for years, making them a worthwhile investment for many consumers. Many professionals, such as businesspeople, lawyers, and executives, prefer leather tote bags for their sleek and polished appearance. Leather tote bags' structured and professional look can enhance one's overall image in a work or formal setting.
Luxury accessories brands continuously innovate in terms of design, offering unique and distinctive leather tote bag designs that capture the attention of affluent consumers. These brands often set trends and establish themselves as leaders in the fashion industry and collaborate with designers, driving the demand for their leather tote bags. For example, in November 2022, Luca Nichetto, a well-known furniture designer collaborated with Angela Roi, a prominent accessories brand to design a tote bag crafted from apple skin leather.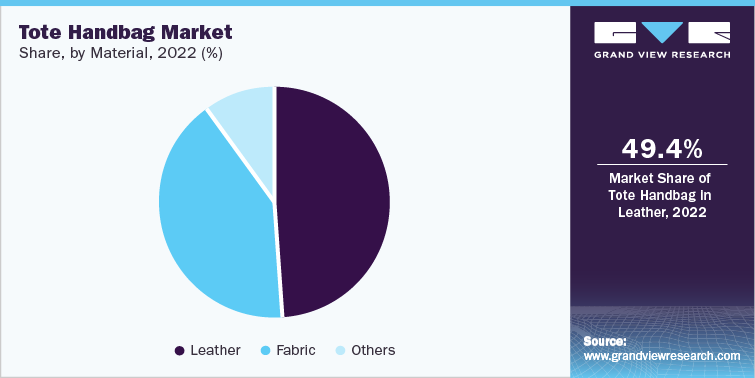 Clutch Handbags Market Insights
The global Clutch Handbags Market size was valued at USD 12,364.5 million in 2022 and is expected to expand at a compound annual growth rate (CAGR) of 6.0% from 2023 to 2030. The rise in disposable income, especially among the affluent population, has contributed to the increased demand for luxury bags. As consumers have more purchasing power, they are more likely to invest in high-end and designer handbags, including clutch bags, as a symbol of luxury and status. Clutch bags are often favored for social events and parties due to their compact size and stylish appeal. Consumers appreciate the convenience and elegance of clutch bags, which can elevate their outfits and make a fashion statement on special occasions.
Clutch handbags are characterized by their small size and lack of handles or straps, typically designed to be carried in one hand or tucked under the arm. Clutch leather handbags are versatile and can be easily paired with different outfits and occasions. They can be used during daytime events or dressed up for evening affairs, making them a versatile accessory choice. Also, the increasing prices of designer bags and their ever-increasing demand among high-income households have facilitated the overall demand for luxury accessories like leather clutch bags in countries like the U.S. and the U.K. For instance, according to Business and Fashion's new data and insights on June 2022, the average price of a women's designer bag in the US has increased by 27% since 2019.
Order your copy of the Free Sample of "Handbag Industry Data Book – Tote Handbag, Clutch Handbag and Satchel Handbag Market Size, Share, Trends Analysis, And Segment Forecasts, 2023 – 2030" Data Book, published by Grand View Research
Satchel Handbag Market Insights
The global Satchel Handbag Market size was valued at USD 6,872.1 million in 2022 and will grow at a compound annual growth rate (CAGR) of 7.1% from 2023 to 2030. Satchel handbags can make a fashion statement by adding a touch of style and personality to an outfit. They come in a wide range of colors, patterns, and embellishments, allowing individuals to express their individuality and complement their personal style. The unisex design and versatility of satchel handbags have made them a preferred choice for individuals who appreciate a gender-neutral accessory.
Leather satchels are extremely popular in the UK, where they are seen as an essential fashion item. Although satchel bags, particularly leather ones, were originally worn by horse riders and motorcyclists, they are increasingly being adopted by customers from various walks of life due to their utility and convenience.
Go through the table of content of Handbag Industry Data Book to get a better understanding of the Coverage and scope of the study
Handbag Industry Data Book Competitive Landscape
The manufacturers aim to achieve optimum business growth and a strong market position through the implementation of various strategies such as acquisitions, new product launches, collaborations, and strengthening of distribution networks in the global as well as regional markets. Handbag manufacturers aim to intensify their market positions by widening their customer base. Thus, multinational players are aiming to achieve business growth in the regional market through mergers, acquisitions, and other strategic initiatives.
Key players operating in the Handbag Industry are:
Sangetsu Corporation
Louis Vuitton
Hermès International S.A
Michael Kors
Fossil Group, Inc.
Check out more Industry Data Books, published by Grand View Research
About Grand View Research
Grand View Research, U.S.-based market research and consulting company, provides syndicated as well as customized research reports and consulting services. Registered in California and headquartered in San Francisco, the company comprises over 425 analysts and consultants, adding more than 1200 market research reports to its vast database each year. These reports offer in-depth analysis on 46 industries across 25 major countries worldwide. With the help of an interactive market intelligence platform, Grand View Research helps Fortune 500 companies and renowned academic institutes understand the global and regional business environment and gauge the opportunities that lie ahead.
Contact:
Sherry James
Corporate Sales Specialist, USA
Grand View Research, Inc.
Phone: 1-415-349-0058
Toll Free: 1-888-202-9519
Email: sales@grandviewresearch.com
Web: https://www.grandviewresearch.com/sector-reports-list
Follow Us: LinkedIn | Twitter