Thermometer Market to grow speedily due to Increase in the Prevalence of Infectious Diseases
San Francisco, Calif., USA, Mar 23, 2023 — /EPR Network/ —
Thermometer Industry Overview
The global thermometer market size was valued at USD 1.3 billion in 2021 and is expected to expand at a compound annual growth rate (CAGR) of 8.7% from 2022 to 2030. Increase in the prevalence of infectious diseases and other medical conditions such as malaria and dengue, as well as rising awareness about the importance of body temperature monitoring are the major factors expected to drive the market. In addition, increasing applications of such devices in temperature monitoring for industrial, medical, laboratory, and imaging purposes are few other factors contributing towards market growth.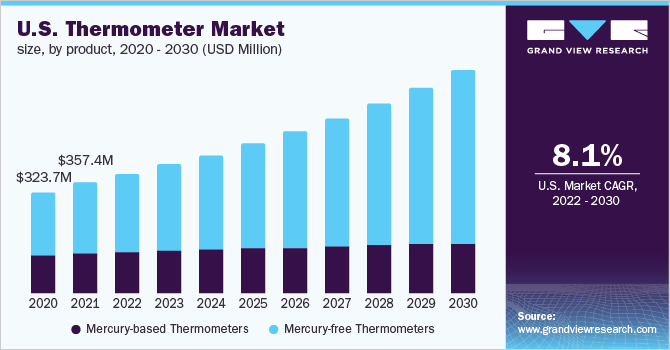 The increase in several medical conditions such as, malaria, dengue, and swine flu involve accurate body temperature readings to determine the line of treatment, is a major factor responsible for the market growth. According to the CDC, around 2,000 cases of malaria are diagnosed in the U.S every year. In addition, as per the same source, over 15.5 million visits to hospitals with infectious and parasitic diseases as the primary diagnosis in the U.S. Furthermore, the WHO African region had the highest burden of malaria, accounting for over 200 million cases in 2018 followed by the WHO South-East Asian region and the WHO Mediterranean region. Presence of unmet medical needs, low level of hygiene, and subsequent rise in target population in these regions are expected to boost demand for thermometers.
Gather more insights about the market drivers, restraints, and growth of the Global Thermometer Market
Moreover, rapid technological advancements has led to the launch of innovative product launch, which is anticipated to accelerate market growth during the forecast period. Advancements include temporal thermometer TAT-2000C by Exergen Corporation, which can be used to measure body temperature by rolling it on a child's forehead. In addition, American Diagnostics Corporation launched Adtemp 429 thermometer that measures temperature without skin contact, thus, minimizing the risk of cross-contamination. Thus, increasing demand for easy-to-use, sensitive, and rapid thermometers, is also expected to drive the market. In addition, in food industry, thermometers are required to check temperatures to avoid contamination and degradation of food and beverages. Companies, such as TEL-TRU, provide a range of NSF-certified poultry/meat, food testing, and barbeque thermometers. Thus, these thermometers help maintain the quality of temperature-sensitive eatables, thus boosting market growth.
Furthermore, coronavirus outbreak has positively impacted the medical industry with an increased demand for thermometers. This is likely to drive the market during the forecast period. The need for thermal screening at public places, offices, and hospitals has increased the demand for infrared thermometers. Moreover, ban of traditional mercury in-glass thermometers in 13 states of the U.S., are boosting the sale of non-contact thermometer. The government has passed the laws for banning the manufacture, and sale of mercury thermometers. This is to eliminate the threat of glass thermometer breakage and the consequent release of mercury vapor at home which are environmentally hazardous. Thus, replacement of mercury thermometers with electronic thermometers, and increased sales of infrared thermometers.
Post COVID-19, technology will emerge to generate new growth prospects. A notable invention that has already hit the market is a next-generation, smart infrared thermometer developed in Taiwan that is integrated with artificial intelligence (AI) to eliminate erroneous readings. The device's AI capability allows it to estimate temperatures by identifying people's faces. This minimizes errors caused by interference from radiation emitted by objects held in a person's hand while being screened.
Browse through Grand View Research's Medical Devices Industry Research Reports.
Non-contact Infrared Thermometer Market – The global non-contact infrared thermometer market size was valued at USD 380.84 million in 2021 and is projected to grow at a compound annual growth rate (CAGR) of 12.42% from 2022 to 2030.
Patient Temperature Management Market – The global patient temperature management market size was valued at USD 3.2 billion in 2021 and is expected to expand at compounded annual growth rate (CAGR) of 8.8% from 2022 to 2030.
Thermometer Market Segmentation
Grand View Research has segmented the global thermometer market on the basis of product, application, and region:
Thermometer Product Outlook (Revenue, USD Million, 2018 – 2030)
Mercury-based Thermometers
Mercury-free Thermometers
Thermometer Application Outlook (Revenue, USD Million, 2018 – 2030)
Medical
Industrial
Food
Laboratory
Others
Thermometer Regional Outlook (Revenue, USD Million, 2018 – 2030)
North America
Europe
Asia Pacific
Latin America
Middle East and Africa (MEA)
Market Share Insights
January 2019: Exergen Corporation introduced PEKO thermal dynamic management solution. This solution will allow manufacturers to safely increase their industrial processes, while ensuring processing temperatures to safely be within the mentioned specifications.
November 2018: Briggs Healthcare acquired Selman-Holman and Associates, a service consulting firm, to expand its education and compliance solutions for home health industry.
Key Companies profiled:
Some prominent players in the thermometer market include:
Medline Industries, Inc.
3M
Welch Allyn
America Diagnostics Corporation
A&D Medical
Exergen Corporation
Microlife Corporation
RG Medical Diagnostics
Medtronic
Terumo Corporation
Actherm Inc.
Briggs Healthcare
OMRON Healthcare Inc.
Fairhaven Health
Order a free sample PDF of the Thermometer Market Intelligence Study, published by Grand View Research.