Smart Agriculture Market Demand, Business Plans, Strategies With Forecasts 2030
Smart Agriculture Market Growth & Trends
The global smart agriculture market size is anticipated to reach USD 54.71 Billion by 2030, expanding at a CAGR of 13.4% during the forecast period, according to a new report by Grand View Research, Inc. The major factors driving the growth of the agtech industry are the increasing use of Artificial Intelligence (AI) and Internet of Things (IoT) and the integration of image processing technologies into agriculture. Agriculture has grown significantly in recent years owing to precision agriculture practices. The development plan of several nations, such as India, China, and Brazil, emphasizes digital transformation and digitization across various sectors, including agriculture.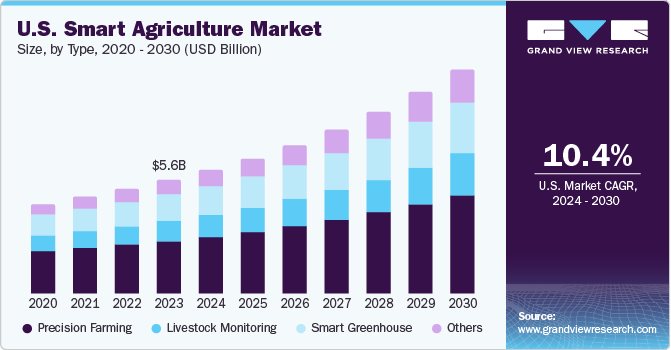 Smart Agriculture Market Segmentation
Grand View Research has segmented the Smart Agriculture market based on offering, application, and regions.
Based on the Agriculture Type Insights, the market is segmented into Precision farming, Livestock monitoring, Smart greenhouse, Others.
In 2022, thelivestock monitoring segment accounted for a market share of 21.88% of the global smart farming market. Furthermore, the smart farming market has been segmented into precision farming, smart greenhouse, and others. The others segment includes fish farming and horticulture. Precision livestock monitoring supports the real-time monitoring of the health, production, and welfare of livestock to ensure optimal yields. Factors such as the increasing size of dairy farms and rising technological advancements, such as precision livestock monitoring, have urged market players to focus on new product launches and substantial cost savings associated with livestock monitoring management.
Smart farming is an integrated approach to managing farming activities, such as preserving resources and optimizing yields, by implementing IoT and information communication technologies. Smart farming entails real-time data on the conditions of soil, air, and crops. It aims to ensure the profitability and sustainability of the farm yield while protecting the environment.
Based on the Offering Insights, the market is segmented into Hardware, Software and Services.
Based on offerings, the software segment is likely to portray the highest growth rate from 2023 to 2030. The hardware segment has further been bifurcated into automation & control systems, HVAC systems, LED grow lights, RFID tags & readers, and sensing devices. Automation & control systems are further segmented into application control devices, milking robots, guidance systems, driverless tractors, mobile devices, remote sensing, variable rate technology, drones, and wireless modules.
The drones sub-segment under the automation & control system is expected to witness the highest growth rate during the forecast period. Several types of drones include hybrid and fixed-wing. Fixed-wing drones comprise a rigid wing having a predetermined airfoil, which aids in its flight by generating lift caused by the drone's forward airspeed. Forward thrust acquired by a propeller, an electric motor, or an internal combustion engine produces this airspeed.
Based on the Application Insights, the market is segmented into Precision farming application, Livestock monitoring application, Smart greenhouse application, Others.
In 2022, the yield monitoring segment held a market share of 43.64%. This is attributable to the growing demand for monitoring crop growth and reducing overall wastage by providing timely required water and minerals. The application of agriculture type includes irrigation management, yield monitoring, crop scouting, field mapping, weather tracking & forecasting, inventory management, and farm labor management. The weather monitoring & forecasting segment is anticipated to witness the highest growth rate during the projected period.
The application of smart greenhouse includes water & fertilizer management, HVAC management, yield monitoring, and others. The HVAC management segment is expected to expand significantly during the forecast period as increasingly greenhouse farms are employing it. The need for maintaining different temperatures and humidity for hydroponic grow rooms and aquaculture areas drives demand for the HVAC management segment
Applications of livestock monitoring include milk harvesting, breeding management, feeding management, animal comfort management, and others. According to the Food and Agriculture Organization (FAO), technological advancements in livestock and agricultural production system will play a significant role in addressing food shortages. Animal comfort management allows farmers to track and manage an animal's status and well-being. The adoption of automated solutions is expected to overcome the limitations of human labor, thereby providing species-appropriate behavior.
Smart Agriculture Regional Outlook
North America
Europe
Asia Pacific
South America
Middle East and Africa (MEA)
Market Share Insights
April 2021: AGCO Corporation, in a strategic partnership with EZ-Drops, an innovative agricultural equipment manufacturer, to provide AGCO's dealers in North America with access to a new nutrient supply system.
January 2020: CropMetrics was acquired by CropX, a leading soil and agricultural analytics company, to expand into the U.S. market. This acquisition was intended to leverage CropMetrics's vast dealer network, service model, user-friendly platform, and Variable Rate Irrigation System to serve product offerings in major regions of the U.S.
Key Companies Profile & Market Share Insights
Industry players are engaging in numerous inorganic growth strategies, such as frequent mergers and acquisitions, in their endeavor to expand their product portfolio.
Some of the prominent players operating in the global smart agriculture market include,
Ag Leader Technology
AGCO Corporation
AgJunction, Inc.
AgEagle Aerial Systems Inc.
Autonomous Solutions, Inc.
Argus Control Systems Ltd
BouMatic Robotic B.V.
CropMetrics LLC
CLAAS KGaA mbH
CropZilla
Deere & Company
DICKEY-john
DroneDeploy
DeLaval Inc
Farmers Edge Inc
Grownetics, Inc.
Granular, Inc.
Gamaya
GEA Group Aktiengesellschaft
Raven Industries
Trimble Inc.
Topcon Positioning Systems, Inc
Order a free sample PDF of the Smart Agriculture Market Intelligence Study, published by Grand View Research.