Breath Analyzers Market Top Players are Tanita and Shenzhen Ztsense Hi-Tech Co., Ltd
San Francisco, Calif., USA, May 25 2023 — /EPR Network/ —
Breath Analyzers Industry Overview
The global breath analyzers market size was valued at USD 2.38 billion in 2021 and is estimated to expand at a compound annual growth rate (CAGR) of 16.5% from 2022 to 2030. Strict implementation of road safety laws across the world, product advancements, initiatives by key companies, and demand for efficient as well as accurate medical detection devices are propelling the market growth.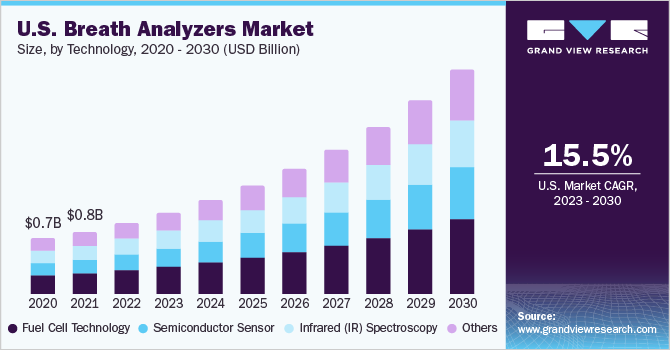 Early diagnosis of diseases such as cancer, tuberculosis, and Chronic Obstructive Pulmonary Disease (COPD) plays a key role in the success rate of their treatment. Breath analyzers offer a quick primary diagnosis based on exhaled air contents. Growing applications in private use such as measurement of carbon monoxide (CO) in smoking cessation activities are expected to boost the market growth during the forecast period. Moreover, the introduction of innovative devices designed to reduce these problems is expected to drive the market growth positively.
Gather more insights about the market drivers, restraints, and growth of the Global Breath Analyzers Market
Breath analyzing devices are widely used for breath alcohol detection by law enforcement agencies to improve road traffic safety. Growing awareness levels and legal requirements in workplaces to keep the environment drug- and alcohol-free has resultantly increased product demand from offices, workplaces, and schools.
The constantly escalating demand in the recent past is anticipated to drive the market in the near future. However, conflicts over the accuracy of different types of analyzers, high susceptibility to external factors like temperature, BMI of the subject, and certain prescription drugs can hinder the growth of the market.
Browse through Grand View Research's Medical Devices Industry Related Reports
Sleep Apnea Devices Market – The global sleep apnea devices market size was valued at USD 4.2 billion in 2022 and is expected to expand at a compound annual growth rate (CAGR) of 6.2% from 2023 to 2030.
Rhinoplasty Market – The global rhinoplasty market size was valued at USD 5.1 billion in 2021 and is projected to grow at a compound annual growth rate (CAGR) of 8.9% during the forecast period.
Breath Analyzers Industry Segmentation
Grand View Research has segmented the global breath analyzers market based on application, technology, and region:
Breath Analyzers Technology Outlook (Revenue, USD Million, 2017 – 2030)
Fuel Cell Technology
Semiconductor Sensor
Infrared (IR) Spectroscopy
Others
Breath Analyzers Application Outlook (Revenue, USD Million, 2017 – 2030)
Drug Abuse Detection
Alcohol Detection
Medical Applications
Breath Analyzers Regional Outlook (Revenue, USD Million, 2017 – 2030)
North America
Europe
Asia Pacific
Latin America
MEA (Middle East & Africa)
Market Share Insights:
February 2022: FoodMarble Digestive Health Ltd. launched the AIRE 2 – a personal digestive breath tester.
November 2021: Imec and diagnostics developed a standard chip-based Breathalyzer Test for COVID-19. This enabled the company to develop and commercialize a breath testing-based COVID-19 test, as opposed to traditional COVID-19 testing based on saliva, blood, or a sample from the nose/throat cavity.
Key Companies profiled:
Some prominent players in the global Breath Analyzers Industry include
Drägerwerk AG & Co. KGaA
Lifeloc Technologies, Inc.
Quest Products, Inc.
Intoximeters
Alcohol Countermeasure Systems Corp.
AK GlobalTech Corp.
Bedfont Scientific Ltd.
Tanita
Lion Laboratories
Shenzhen Ztsense Hi-Tech Co., Ltd
Order a free sample PDF of the Breath Analyzers Market Intelligence Study, published by Grand View Research.