Bovine Tuberculosis Diagnosis Market Demand and Key Players by 2030
Bovine Tuberculosis Diagnosis Industry Overview
The global bovine tuberculosis diagnosis market size was valued at USD 707.4 million in 2021 and is estimated to expand at a compound annual growth rate (CAGR) of 4.2% from 2022 to 2030.
Increasing cattle population, increasing consumption of animal products, rising concerns over zoonosis, strategies initiated by key companies, and supportive regulations and programs implemented by governments are some of the key factors driving the growth of the market. For instance, the National Tuberculosis Eradication Program administered by the U.S. Department of Agriculture's (USDA), Animal and Plant Health Inspection Service (APHIS), was implemented with the aim of eradicating bovine TB in the U.S. in 1917. The program comprises continuous and periodic testing of cattle across the country to detect TB, through a robust surveillance program among other initiatives. This is anticipated to contribute to market growth.
Gather more insights about the market drivers, restrains and growth of the Global Bovine Tuberculosis Diagnosis Market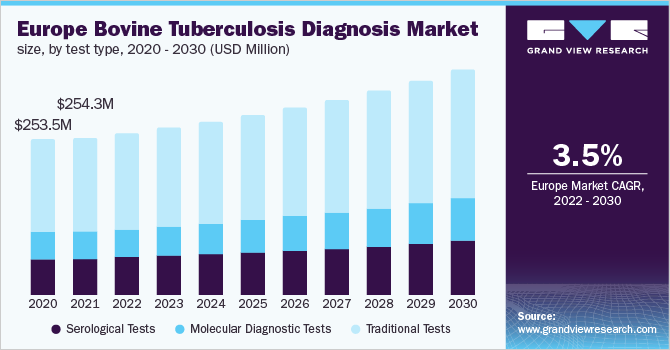 The COVID-19 pandemic has resulted in the market decline, especially during 2020. This adverse impact is mainly attributable to the closure of and restricted access to veterinary services because of lockdowns. The bovine TB eradication programs in various countries faced enormous challenges in proceeding with their diagnosis processes during the pandemic. For instance, in November 2021, the Minister for Environment, Energy and Rural Affairs (MEERA), U.K., reported that various new eradication programs and their aspects had been paused and delayed due to the sudden public health crisis. This led to operational hurdles in the implementation of the TB eradication program.
However, the government agencies and key players have taken various measures to continue their eradication programs during the pandemic. For instance, according to the Department of Agriculture, Environment and Rural Affairs (DAERA), the U.K., measures were introduced in March 2020 to support the resumption of bovine Tuberculosis (TB) testing activities which were disrupted during the COVID-19 pandemic. As per the measure, herd keepers were advised to complete overdue bovine Tuberculosis (TB) tests that were delayed due to the pandemic. Similarly, as per the Michigan Department of Agriculture and Rural Development (MDARD), the U.S., activities under the Bovine Tuberculosis Eradication Program such as TB testing continued during the pandemic while following precautions to prevent disease spread.
Some of the key drivers propelling the market for bovine TB diagnosis include the increased bovine TB eradication and surveillance initiatives by governments, R&D initiatives by key companies, post-pandemic return to normal, and expansion of test types and services offerings. For instance, the World Organization for Animal Health (OIE) approved Enferplex Bovine TB Antibody test in June 2019, which was manufactured by Enfer Group in Ireland. This test kit aids in the detection of antibody to M. bovis in serum samples of cattle, hence suggested by OIE for serological infection diagnosis and management. The company partnered with Sure Farm Ltd to distribute its product across the U.K. to enhance its distribution channel. These affirmative factors attributed to the growth of the market for bovine TB diagnosis during the forecast period.
Browse through Grand View Research's Animal Health Industry Research Reports.
Animal Wound Care Market – The global animal wound care market size was estimated at USD 1.08 billion in 2022 and is expected to grow at a compound annual growth rate (CAGR) of 6.92% over the forecast period.
Rabies Veterinary Vaccines Market – The global rabies veterinary vaccines market size was valued at USD 584.8 million in 2022 and is expected to expand at a compound annual growth rate (CAGR) of 4.1% from 2023 to 2030.
Market Share Insights
June 2020: The OIE organized seventh International Conference on Mycobacterium bovis in Ireland
November 2017: PBD Biotech expanded its offerings lineup by launching Actiphage (TB), a blood test for bovine tuberculosis.
Key Companies profiled:
Some prominent players in the global bovine tuberculosis diagnosis market include
PBD Biotech Ltd.
Zoetis
IDEXX Laboratories, Inc.
IDvet
Thermo Fisher Scientific, Inc.
Enfer Group
Bio-Rad Laboratories, Inc.
AsureQuality Australia Pty Ltd.
Bionote
Order a free sample PDF of the Bovine Tuberculosis Diagnosis Market Intelligence Study, published by Grand View Research.