LED Driver Market Top Companies are MEAN WELL Enterprises Co., Ltd., Macroblock, Inc, and SAMSUNG
San Francisco, Calif., USA, May 31 2023 — /EPR Network/ —
LED Driver Industry Overview
The global LED driver market size was valued at USD 5.04 billion in 2021 and is anticipated to expand at a compound annual growth rate (CAGR) of 23.5% from 2022 to 2030. Technological progression in lighting components such as LED drivers has enabled energy efficiency and improved performance, thus amplifying market growth over the forecast period. Increasing penetration of the light-emitting diodes used in lighting in commercial and industrial segments has led to increased demand. These components are used in high brightness lighting applications.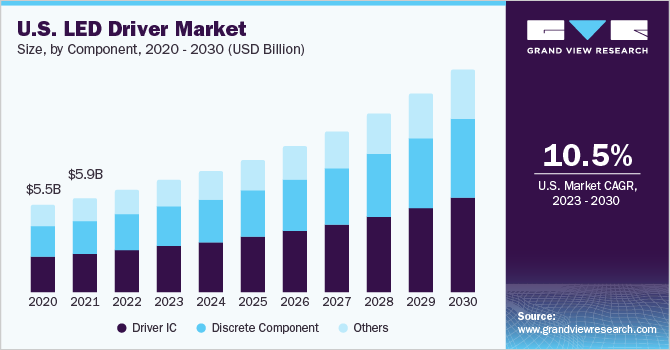 Moreover, companies such as Signify Holdings and Microchip technology, Inc are investing more in research and development to improve the efficiency of the existing lighting solutions. For instance, in January 2022, Signify Holdings announced a new line of Philips Hue intelligent lighting products and functions to help users create the perfect ambiance both indoors and out. The new products included Philips Hue Lucca wall light, Inara wall light, Calla bollard in stainless steel, and Resonate wall light.
Gather more insights about the market drivers, restraints, and growth of the Global LED Driver Market
The light-emitting diode driver has become an essential part of industrial and commercial lighting and has helped to reduce electricity costs considerably. The growing reach of LED lights in several applications, such as outdoor, automotive, industrial, and horticultural lighting, is further supporting the growth of the market for LED drivers. Governments of various countries have launched smart city projects to develop technologically advanced and ecological living places. Sustainable lighting forms an essential part of such projects. Thus, the demand for IoT-based smart lighting solutions is growing high in such countries. Many cities have also installed smart street lights that turn on and off using daylight sensors.
The next-generation light-emitting diodes provide ease of use for designers to design luminaries efficiently. For example, a high voltage driver is capable of supplying up to 17 LEDs in series, with constant currents between 350mA and 1,200mA. Such advancements are expected to boost the market growth in the future. However, the absence of certain industry-defined standards to test the characteristics and behavior of such drivers has steered manufacturers to face several challenges in the industry. Solid-State Lighting (SSL) lighting and driver manufacturers worldwide follow their standards in manufacturing such a key component of lighting systems resulting in a lack of interoperability across its end-use applications hindering market proliferation.
Browse through Grand View Research's Semiconductors Industry Related Reports
LED Lighting Market – The global LED lighting market size was worth USD 70.94 billion in 2022 and is expected to expand at a compound annual growth rate (CAGR) of 11.0% from 2023 to 2030.
Smart Lighting Market – The global smart lighting market size was valued at USD 10.85 billion in 2020 and is expected to expand at a compound annual growth rate (CAGR) of 20.4% from 2021 to 2028.
LED Driver Industry Segmentation
Grand View Research has segmented the global LED driver market based on supply type, application, and region:
LED Driver Supply Type Outlook (Revenue, USD Million, 2017 – 2030)
Constant current
Constant voltage
LED Driver Application Outlook (Revenue, USD Million, 2017 – 2030)
Automotive
Consumer Electronics
Lighting
Outdoor Display
LED Driver Regional Outlook (Revenue, USD Million, 2017 – 2030)
North America
Europe
Asia Pacific
Latin America
MEA (Middle East & Africa)
Market Share Insights:
May 2022: Signify Holdings announced the acquisition of Fluence from ams-OSRAM. The acquisition helped the company to upgrade its global agriculture lighting platform and expand in the North American horticulture lighting market.
April 2022: STMicroelectronics N.V. announced the launch of the latest power management I.C. for the company's AMOLED display portfolio.
Key Companies profiled:
Some prominent players in the global LED Driver Industry include
ACE LEDS
Microchip Technology, Inc
Cree LED
GE Current, a Daintree Company
Signify Holdings
SAMSUNG
Lutron Electronics Co., Ltd
Macroblock, Inc
Maxim Integrated
NXP Semiconductors
Order a free sample PDF of the LED Driver Market Intelligence Study, published by Grand View Research.