Heal Your Heart With Lotus Health Care Launched EECP System In Belgaum, Karnataka
karnataka, India, 2020-Apr-04 — /EPR Network/ — Heal your Heart with Lotus Health care and Diagnostics launches the first Enhanced External Counter Pulsation centre in North Karnataka. The Inauguration was held on 3rd August 2018 at Lotus Health care facility. In the inauguration,  clinical cardiologist and Director of Lotus Health care Dr Rajkumar informed that the EECP centre will be helpful to many patients who are not willing for Bypass surgery or angioplasty and also who cannot undergo these procedure due to high risk. Dr.Rajkumar who has been trained in Chennai will be the director for this Non Invasive, Non surgical EECP treatment program.
Dr.S.Ramasamy Director of Heal your Heart, the world largest EECP centre chain said, EECP has been installed in most of the major cities across India. Only few centers have been installed in Tier II cities like Belgaum. This will be our Pilot Project of Heal your Heart EECP centre for the tier II cities. He added the success in this centre will be replicated throughout Karnataka Tier II cities.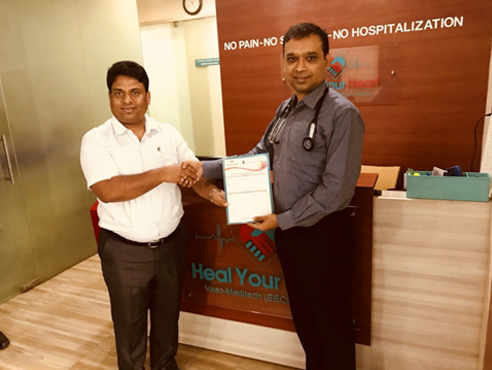 Dr.S.Ramasamy and Dr.Rajkumar with the Heal your heart Joint agreement.
Heal Your Heart is a Franchisee Unit of Vaso-Meditech Pvt Ltd , who are the Largest Vaso-Meditech Enhanced External Counterpulsation (EECP) Non Surgical Cardiac treatment Provider in India. The Franchisee Unit offers investment, Clinical and technical support for Vaso-Meditech EECP treatment. The Experienced staffs and distinguish clinical service coupled with web based patient managemen system make Heal Your Heart as as preferred choice for Non-Invasive Cardiology.
For Information Contact : contact@healurheart.com
https://www.healurheart.com/eecp-press-release/heal-your-heart-with-lotus-health-care-launched-eecp/320