Wearable Brain Devices Market Overview and Insights 2030
Wearable Brain Devices Market Growth & Trends
The global wearable brain devices market size is anticipated to reach USD 668.5 million by 2030, registering a CAGR of 12.33%, according to a new report by Grand View Research, Inc. The increasing prevalence of neurological disorders and the growing government initiatives across the globe are expected to drive the growth of the market.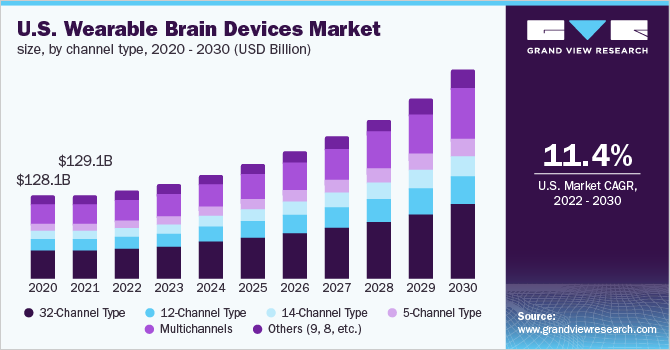 Wearable Brain Devices Market Segmentation
Grand View Research has segmented the global wearable brain devices market based on channel type, application, end-user, and region:
Based on the Channel Type Insights, the market is segmented into 32-Channel Type, 12-Channel Type, 14-Channel Type, 5-Channel Type, Multichannels, Others (9, 8, etc.).
The 32-channel type segment captured the largest market share with around 34.33% in 2021. When compared to the other types of channels, such devices preserve the accuracy required for adequate communication and are extremely portable for daily use. The market is expected to further grow due to many applications of this channel in recording electrical events in the brain to diagnose neurological illnesses and other applications in the brain-computer interface as well. Furthermore, the aspects such as efficiency, the convenience of use, high production, technical advancement, and widespread acceptability by healthcare experts are anticipated to further fuel the expansion of the segment.
Over the projection period, the multichannel segment is expected to register the highest CAGR of 13.25%. When compared to single-channel wearable brain devices, multichannel provides a superior sensor network, avoids data loss, and aids in the detection of significant clinical circumstances. As a result of these reasons, the category is predicted to expand in the near future. Furthermore, technical developments and increased knowledge about the device's safety will boost the growth of the segment in the near future
Based on the Application Insights, the market is segmented into Medical Setting, AR/VR Gaming Settings and Others.
In 2021, the medical setting segment dominated the industry with around 64.67% of the revenue share. Medical settings are further segmented into epilepsy, sleep disorders, Parkinson's disease, traumatic brain injury, Alzheimer's, and other applications.
The epilepsy segment has witnessed unprecedented adoption of wearable brain devices over time. This is due to rising cases of epilepsy along with an increasing effort taken to increase awareness about the condition. For instance, according to the World Health Organization (WHO), every year, an estimated 5 million people are diagnosed with epilepsy globally. Epilepsy is projected to affect 49 out of every 100 000 people in high-income nations annually. In low- and middle-income countries, this figure can be as high as 139 per 100 000. Efforts from device manufacturers to develop technologically advanced products will continue to contribute to the market growth.
AR/VR gaming settings segment is expected to expand at the highest CAGR of 16.51% during the forecast period. This is due to technological advancements such as enhanced sensor functions, long-term wearability, seamless integration with other electronic components, and increasing awareness regarding the technology among children.
Based on the End-user Insights, the market is segmented into Hospitals & Clinics, Neurology Centers, Ambulatory Surgery Centers (ASCs), Diagnostic Centers, Transportation and Construction, Research and Academics, Homecare Settings, Intensive Care Units, Assisted Living Facilities, Athletes and Military Personnel, Others.
The hospitals & clinics segment dominated the market with a revenue share of 20.79% in 2021. This segment's growth is mostly attributed to an increase in the number of patients suffering from various chronic diseases, resulting in an increase in surgical procedures. Notably, hospitals receive a substantially higher inflow of patients for neurology treatments than other healthcare settings, owing to the simplicity of managing any crises that may develop during surgical procedures and the availability of a wide range of treatment alternatives. By covering both attended and unattended lab tests, as well as testing performed in hospitals and non-lab settings, this coverage opens the way for new options. During the projected period, new gadgets with improved performance are likely to boost segment growth.
Neurology centers segment is expected to register the highest CAGR of 13.52% during the forecast period. This growth is mostly driven by an increase in neurological disorders such as epilepsy and Parkinson's disease. These centers offer a wide range of treatments for complex epilepsy patients with the highest level of medical and surgical care. In addition, rising number of neurology centers across developed countries, increased safety, ease of scheduling, focused clinical staff, improved productivity, and growing patient preference for minimally invasive medical procedures and the efficacy of these centers, are some of the major factors that are likely to drive the growth in the forthcoming years.
Wearable Brain Devices Regional Outlook
North America
Europe
Asia Pacific
Latin America
Middle East & Africa
Market Share Insights
January 2021: BioSerenity, Inc., announced that the IceCap EEG and Neuronaute EEG system wearable devices had received FDA 510(k) clearance, allowing physicians to remotely assess and monitor electrical brain activity in people with epilepsy. BioSerenity is dedicated to enhancing patient care by making EEG diagnostics more accessible to the 3.4 million people living with epilepsy in the U.S. alone.
Key Companies Profile & Market Share Insights
With the surge in demand for wearable brain devices, global manufacturers are speeding up their production processes while also upgrading them through the use of cost-effective solutions.
Some of the prominent players operating in the global wearable brain devices market include,
Kernel
EMOTIV
Neurolief
Brain Scientific
BioSerenity
mBrainTrain
Brain Products
COGNIONICS, INC.
Bitbrain Technologies
Dreem
BrainCo Inc.
NextMind
Cadwell Industries Inc.
Neuroelectrics
Others
Order a free sample PDF of the Wearable Brain Devices Market Intelligence Study, published by Grand View Research.