Oil Storage Market Share, Outlook and Forecast Report By 2030
Oil Storage Industry Overview
The global oil storage market volume was estimated at 1,649.5 MCM in 2021 and is expected to grow at a compound annual growth rate (CAGR) of 4.98% from 2022 to 2030.
Increasing oil & gas production activities along with the growing demand for crude oil in several end-use sectors are expected to drive the market over the forecast period. Suppliers are expanding their infrastructure and inventories owing to the rising crude oil demand and to store crude oil in large quantities. In addition, fluctuating crude oil prices have resulted in oil-importing countries safeguarding their energy security through enhanced oil storage.
Gather more insights about the market drivers, restrains and growth of the Global Oil Storage Market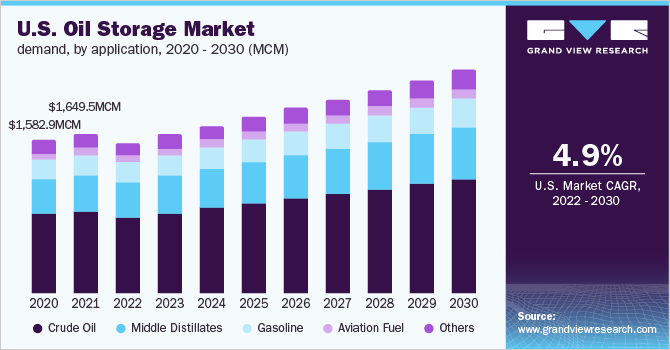 Moreover, the growing trend for strategic petroleum reserves across several countries is bound to positively influence the industry landscape. The U.S. held the largest share of the North America regional market in 2021. Oil storage is a part of the midstream sector of the oil industry. Growing demand for high storage capacities and rising oil production are the major factors expected to drive the market during the forecast period. Furthermore, increasing government initiatives for the storage of oil to protect the national economy during energy crises and to reduce the Greenhouse Gas (GHG) emissions are expected to drive the market growth.
However, high investment and maintenance costsmay hamper the market growth. The oil storage capacity in Canada is significantly lower than that in the U.S. since most of its capacity addition has been introduced in the past few years. Moreover, most of the oil production from Western Canada is exported to the U.S. and stored at mega-terminals.The U.S. market is estimated to witness prominent growth because of the continuous rise in the exploration of unconventional oil & gas resources. The storage facilities are mainly present in the Gulf Coast region as it is a key exporting area for crude oil and houses major refining facilities.Crude oil supply outpaced crude oil demand due to the COVID-19 pandemic.
Hence, resulted in an increasing share of oil storage capacity across several countries, thus propelling the market demand over the forecast period. However, stringent regulations associated with oil stockpiling in below and above-ground tank installations are expected to hamper the industry growth.For instance, the Water Environment Regulations 2006 (Scotland) and Control of Pollution Regulations 2001 (England) are some of the key legislations requiring market participants' adherence in Europe. In addition, storage equipment vendors are investing in advanced technologies used for fabricating steel tanks to prevent any oil leakages during storage.
Browse through Grand View Research's Conventional Energy Industry Research Reports.
Flywheel Energy Storage System Market – The global flywheel energy storage system market size was valued at USD 326.43 Million in 2021 and is expected to expand at a compound annual growth rate (CAGR) of 9.8% from 2022 to 2030.
Enhanced Oil Recovery Market – The global enhanced oil recovery market size was valued at USD 38.83 billion in 2021 and is expected to expand at a compound annual growth rate (CAGR) of 7.8% from 2022 to 2030.
Key Companies profiled:
Some prominent players in the global oil storage market include
VTTI
Royal Vopak
Oiltanking GmbH
Buckeye Partners, LP
Containment Solutions, Inc.
Shawcor
Belco
CST Industries
Superior Tank Co., Inc.
DELTA OIL TANKING BV
Order a free sample PDF of the Oil Storage Market Intelligence Study, published by Grand View Research.