Pharmaceutical Robots Market is driven by the High Costs of New Drug Discovery
San Francisco, Calif., USA, June 02 2023 — /EPR Network/ —
Pharmaceutical Robots Industry Overview
The global pharmaceutical robots market size was valued at USD 162.7 million in 2021 and is expected to expand at a compound annual growth rate (CAGR) of 9.2% from 2022 to 2030. The growing need for automation in manufacturing units, coupled with the high costs of new drug discovery, is significantly increasing the demand for robotics in clinical trials, drug discovery, and laboratories for automating the procedures. In addition, key companies are introducing technologically advanced robotic machines, which has further led to the tremendous growth of the market. With rising demands for precision, output, and faster turnaround times, automation and robotics have gained traction in the pharmaceutical industry. Additionally, there are numerous benefits to speed when using robots in the pharmaceutical sector. Pharmaceutical drug inspection will become more and more necessary in Asia Pacific, North America, and Europe.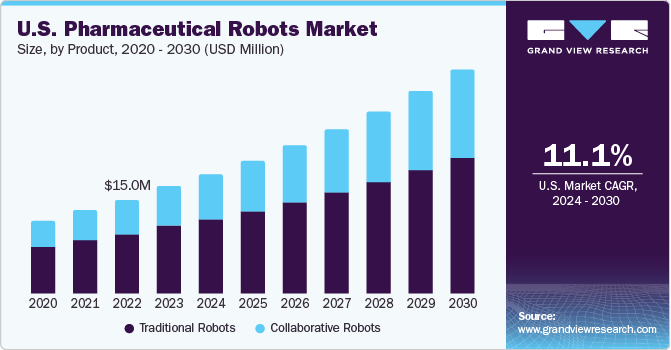 Traditional robots like cartesian, SCARA, and articulated robots will continue to grow significantly over the forecast period, along with collaborative robots. Robots may be utilized 24 hours a day and can-do jobs about three to four times faster than humans can. Robots can also move with an accuracy greater than that of a sheet of paper and much greater than that of a human. Despite high initial investment for installation, the long-term benefits of robots have made them a cost-effective instrument in manufacturing processes, resulting in a higher return on investment (ROI).
Gather more insights about the market drivers, restraints, and growth of the Global Pharmaceutical Robots Market
These machines are three to four times faster than humans and can operate for 24 hours. With the growing competition in the pharmaceutical industry, drug manufacturers are revolutionizing manufacturing processes with robotic technology. This technology has led to increased manufacturing efficiency and a growing ability to offer quality products at lower costs. These aforementioned factors are expected to raise the demand for pharmaceutical robots for manufacturing processes in the coming years. There is a major demand-supply gap as a result of the coronavirus disease outbreak, which has had a massive impact on the manufacturing industry, as there was a lack of raw materials from Chinese producers.
Due to the logistics sector having been severely hit by lockdown during COVID-19, it is also anticipated that manufacturers may be stranded on raw material orders. Due to a lack of manufacture and supply, all of this has had a negative impact on the industry and caused a slowdown in the market for pharmaceutical robots. On the other hand, the COVID-19 pandemic is encouraging the use of pharmaceutical robots to reduce labor costs, boost in-house manufacturing through automation rather than outsourcing, and overcome manpower shortages to reduce supply chain risks following the COVID-19 pandemic.
Browse through Grand View Research's Medical Devices Industry Related Reports
Pharmaceutical Analytical Testing Outsourcing Market – The global pharmaceutical analytical testing outsourcing market size was valued at USD 7.6 billion in 2022 and is anticipated to grow a compound annual growth rate (CAGR) of 8.4% from 2023 to 2030.
Robotic Nurse Assistant Market – The global robotic nurse assistant market size was valued at USD 1.0 billion in 2022 and is expected to expand at a compound annual growth rate (CAGR) of 14.8% from 2023 to 2030.
Pharmaceutical Robots Industry Segmentation
Grand View Research, Inc. has segmented the global pharmaceutical robots market based on product, application, end-use, and region:
Pharmaceutical Robots Product Outlook (Revenue, USD Million, 2017 – 2030)
Traditional Robots
Collaborative Pharmaceutical Robots
Pharmaceutical Robots Application Outlook (Revenue, USD Million, 2017 – 2030)
Picking and Packaging
Inspection of Pharmaceutical Drugs
Laboratory Applications
Pharmaceutical Robots End-use Outlook (Revenue, USD Million, 2017 – 2030)
Pharmaceutical Companies
Research Laboratories
Pharmaceutical Robots Regional Outlook (Revenue, USD Million, 2017 – 2030)
North America
Europe
Asia Pacific
Latin America
MEA (Middle East & Africa)
Market Share Insights:
July 2018: FANUC America Corporation announced the expansion of its headquarters with the construction of a new facility in Auburn Hills, MI. The new facility was used for product development, manufacturing, engineering, and warehousing.
June 2018: Marchesini Group completed the acquisition of two companies-Schmucker and Creinox. Schmucker, based out of Gorizia, manufactures stick pack packaging machinery for the pharmaceutical, cosmetic, and food industries.
Key Companies profiled:
Some prominent players in the global Pharmaceutical Robots Industry include
ABB Ltd.
Universal Robots A/S
Kawasaki Heavy Industries Ltd.
Yaskawa Electric Corporation
FANUC America Corporation
Marchesini Group S.p.A
Seiko Epson Corporation
Denso Wave, Inc.
Shibuya Corporation
Mitsubishi Electric Corporation
Kuka AG
Order a free sample PDF of the Pharmaceutical Robots Market Intelligence Study, published by Grand View Research.