Medical Polyetheretherketone Market Global, Regional and Country Level Analysis By 2030
Medical Polyetheretherketone Industry Overview
The global medical polyetheretherketone market size was valued at USD 533.59 million in 2021 and is expected to expand at a compound annual growth rate (CAGR) of 7.3% from 2022 to 2030.
The growth of the market is attributed to the increasing acceptability of medical polyetheretherketone (PEEK) as a metal replacement in medical implants like knee and hip implants, spinal implants, and vascular medical devices. PEEK can be 3D printed to produce patient-specific designs and porous geometries ideal for stable integration with bone.
Gather more insights about the market drivers, restrains and growth of the Global Medical Polyetheretherketone Market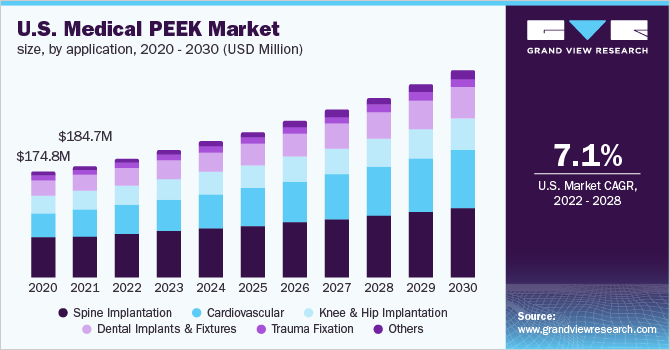 Major industry players are focusing on new product development and collaborations to strengthen their market position. Established players like Invibio and Evonik Industries have integrated their operations by backward and forward integration across the value chain. For example, Invibio Ltd. has its presence right from the monomer production needed for PEEK to processing the plastic into medical devices. The market is characterized by continuous technological advancements to produce refined products. In addition, companies are introducing technologically advanced products. In May 2021, a new Creed Cannulated Screw System for foot and ankle surgery made by Carbon22 from Solvay's Zeniva polyetheretherketone received 510(k) clearance from the FDA.
The growth of the U.S. market for medical PEEK is attributed to the presence of well-established healthcare industry, a growing geriatric population, and rising government expenditure. In addition, the increasing home healthcare services are going to have a positive impact on the market over the forecast period. According to the latest U.S. census, 16.5% of the U.S. population, i.e., 54 million, is over the age of 65. By 2030, this number is expected to rise to 74 million. The number of people aged over 85, who need the most care, is growing even faster. According to the Centers for Disease Control and Prevention (CDC), an estimated population of nearly 78 million (26%) U.S. citizens aged 18 years or older are expected to have doctor-diagnosed arthritis by 2040.
The U.S. demand was 1,284.36 kilotons in 2021 and is expected to expand at a considerable CAGR from 2022 to 2030. The U.S has the largest number of companies involved in various stages of the medical PEEK value chain right from raw material manufacturers to medical device manufacturers. The presence of key manufacturers, such as Lubrizol, Celanese Corporation, and A. Schulman, Inc., can be regarded as one of the major factors driving the market in the country.
Browse through Grand View Research's Plastics, Polymers & Resins Industry Research Reports.
Medical Coatings For Implants Market – The global medical coatings for implants market size was valued at USD 1,387.24 million in 2022 and is expected to expand at a compound annual growth rate (CAGR) of 9.3% from 2023 to 2030.
Bioresorbable Polymers Market – The global bioresorbable polymers market size was estimated at USD 1.14 billion in 2021 and is expected to expand at a compound annual growth rate (CAGR) of 13.7% during the forecast period.
Market Share Insights
September 2019: Evonik Industries invested in Meditool, a Chinese startup involved in 3D printing for medical applications.
Key Companies profiled:
Some prominent players in the global medical polyetheretherketone market include
Superior Polymers
Evonik Industries AG
Invibio Ltd.
Solvay
Medtronic
Order a free sample PDF of the Medical Polyetheretherketone Market Intelligence Study, published by Grand View Research.