Procedure Trays Market Raw Material Outlook and Restraint Analysis Report by 2030
San Francisco, Calif., USA, Mar 28, 2023 — /EPR Network/ —
Procedure Trays Industry Overview
The global procedure trays market size was valued at USD 15.99 billion in 2021 and is expected to expand at a compound annual growth rate (CAGR) of 11.3% from 2022 to 2030. The growing number of surgeries globally is a key factor expected to drive the growth of the market for procedure trays during the forecast period. The advent of minimally invasive and non-invasive procedures has increased the number of surgeries performed each year. This is also expected to fuel the product demand in near future.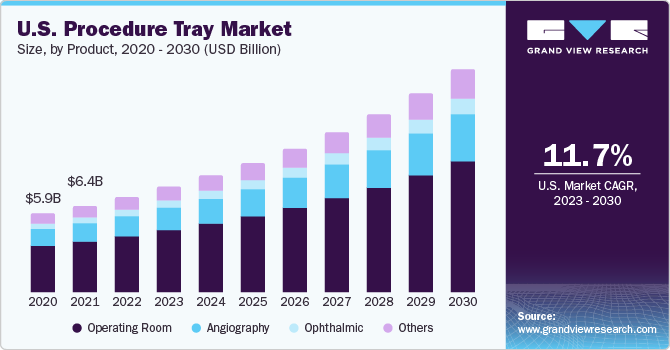 Patients choose non-invasive or minimally invasive operations to avoid the risk of infections associated with invasive surgeries. Non-invasive operations necessitate shorter hospital stays, saving both time and money. An increase in the frequency of road accidents, an aging population, and increased healthcare spending in emerging economies are expected to increase the number of procedures performed during the projection period. Global healthcare spending is expected to exceed USD 25.00 trillion by 2040, according to the U.S. Census Bureau. Moreover, according to the WHO, the global population aged 60 and up will double by 2050 and reach 2.1 billion.
Gather more insights about the market drivers, restraints, and growth of the Global Procedure Trays market
All the tools and devices needed to perform a specific surgical or diagnostic operation are included in custom procedure kits. Although these kits are not utilized in every medical operation, they are recommended when treating cardiovascular, ophthalmology, and orthopedic ailments and disorders, as well as wound care and dental procedures. Physicians and healthcare practitioners can utilize custom procedure trays to pick clean surgical instruments and tools for single use. The pre-configured and pre-packaged trays and kits minimize the requirement for a massive inventory of individual components. Hence, pre-packaged bespoke procedural solutions help increase the quality of services as they streamline inventory management.
The COVID-19 pandemic positively impacted the procedure trays market due to the increased need for procedure trays to treat the coronavirus-affected population. A continuing shortage of procedure trays, such as testing kits and crucial diagnosis procedure trays has resulted from supply chain disruption. The acute shortfall is caused by a decline in Chinese shipments. The shortage of vital procedure trays is caused by a drop in shipments owing to closed manufacturers and ports.
The increasing number of surgeries and the geriatric population are the factors that drive the market growth in the U.S. According to Regenexx, in the U.S., more than 7 million orthopedic surgeries were performed in 2021. According to the National Center for Health Statistics, more than 40 million surgeries are performed each year, and that number is expected to grow exponentially. In addition, according to the American Psychological Association in 2021, the geriatric population in the country is currently at 46 million and is supposed to double itself by 2060, which is supposed to increase surgeries coupled with advancements in technology and drive the market growth.
Browse through Grand View Research's Medical Devices Industry Research Reports.
Ophthalmic Handheld Surgical Instruments Market – The global ophthalmic handheld surgical instruments market size was valued at USD 2.0 billion in 2021 and is expected to expand at a compound annual growth rate (CAGR) of 3.8% from 2022 to 2030.
Angiography Devices Market – The global angiography devices market size was valued at USD 9.8 billion in 2018 and is projected to expand at a CAGR of 6.54% over the forecast period.
Procedure Trays Market Segmentation
Grand View Research has segmented the global procedure trays market based on the product, packaging, end user, and region:
Procedure Trays Product Outlook (Revenue, USD Million, 2017 – 2030)
Operating Room
Angiography
Ophthalmic
Others
Procedure Trays Packaging Outlook (Revenue USD Million; 2017 – 2030)
Procedure Trays End-user Outlook (Revenue, USD Million, 2017 – 2030)
Hospitals
Clinics & Other Facilities
Procedure Trays Regional Outlook (Revenue, USD Million, 2017 – 2030)
North America
Europe
Asia Pacific
Latin America
Middle-East and Africa (MEA)
Market Share Insights:
December 2021: American Contract Systems (ACS), a Minnesota-based provider of sterilizing and kitting services for the Custom Procedure Tray (CPT) solution, was acquired by Owens & Minor, Inc. This acquisition will increase their capacity to surpass and meet their customers' collective needs for surgical procedure trays, a market that is predicted to grow rapidly in the near future.
Key Companies profiled
Some prominent players in the global procedure trays market include:
Owens & Minor, Inc.
Cardinal Health
3M Healthcare
Teleflex Incorporated
B. Braun Melsungen AG
BD
Merit Medical Systems
Order a free sample PDF of the Procedure Trays Market Intelligence Study, published by Grand View Research.