Biobanking Industry is driven by Changes in Biobanking Operations
Biobanking Industry Data Book Covers Biobanks, Cell Banking Outsourcing, Cord Blood Banking Services, DNA & RNA Banking Services Market
Grand View Research's Biobanking Industry databook is a collection of market sizing & forecasts insights, market dynamics & trends, opportunity assessment, regulatory & technology framework, pricing intelligence, competitive benchmarking analyses, macro-environmental analyses studies. Within the purview of the databook, such information is systematically analyzed and provided in the form of summary presentations and detailed outlook reports on individual areas of research.The following data points will be included in the final product offering in four reports and one sector report overview.
Biobanks Market Insights
The global biobanks market size was valued at USD 66.66 billion in 2021 and is expected to grow at a compound annual growth rate (CAGR) of 4.6% from 2022 to 2030. High investments in the R&D of advanced therapies, such as regenerative medicine, personalized medicine, and cancer genomic studies, are driving the space. Moreover, the onset of COVID-19 has put biobanks at the forefront of the pandemic control measures, resulting in the organic revenue growth of the market. The COVID-19 outbreak had a major influence on the biobanking industry. Biobanking is important for the diagnosis & production of medicines for a variety of disorders. International initiatives to produce vaccines and other medicines to prevent the spread of the virus have been urgently needed.
The collection, processing, and analysis of patient samples are at the frontline of this crisis. For example, the Health Minister announced EUR 2 million in financing for the National Irish COVID-19 Biobank (NICB) in a July 2021 update from the Government of Ireland. The NICB has become a critical part of Ireland's COVID-19 pandemic response. According to a February 2021 release, the Sample Collection Database was designed by the SciLifeLab Data Centre in partnership with Biobank Sweden and the research area 'Biobanks for COVID-19' of the SciLifeLab & KAW National COVID-19 research program.
Furthermore, Tulane University announced a new COVID-19 biobank containing blood & cell samples from survivors in July 2021 to aid researchers in determining why some people heal rapidly while others have long-term effects. As a result, such activities show that the outbreak of the pandemic boosted the demand for biobank services, benefiting the global economy. The increasing popularity of precision/personalized medicine and genetic testing has been a key driver of the market. Biobanks have been playing a significant role in biomedical research. Over the past few decades, there have been several advances in platforms and tools used in genetic studies.
This has led to an increase in demand for biospecimens from clinical labs to develop assays for genetic testing. Collaborations between private and public institutions in biobanking have played a crucial role in market progression. Digitalization, precision medicine, and virtualization are rapidly changing the biobanking industry through the development of novel methods and concepts of synergies initiated by public and private organizations. Companies across all fields are partnering with biobanks, which accelerates market revenue. For instance, Illumina partnered with four institutions – the University of Colorado at Denver, Vanderbilt University, Montreal Heart Institute University, and Partners HealthCare – to genotype their bio-samples for R&D activities.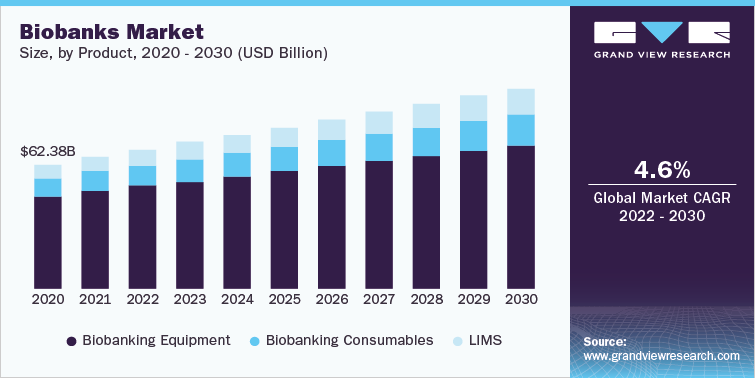 Order your copy of the Free Sample of "Biobanking Industry Data Book – Biobanks, Cell Banking Outsourcing, Cord Blood Banking Services, DNA & RNA Banking Services Market Size, Share, Trends Analysis, And Segment Forecasts, 2023 – 2030" Data Book, published by Grand View Research
Cell Banking Outsourcing Market Insights
The global cell banking outsourcing market size was computed at USD 9.86 billion in 2021 and is anticipated to grow at a compound annual growth rate (CAGR) of 16.39% from 2022 to 2030. Rising advancement of the cryopreservation and cell banks preparation methodologies, increasing adoption of stem cell therapies, and growing demand for monoclonal antibodies along with effective biopharmaceuticals are the major factors, driving growth of the market. According to CellTrials.org global enrolments of new trials in advanced cell therapy were up almost 30% in the first quarter of 2020. Most of the rise can be associated to cell therapy efforts for treating COVID-19, and over half of those trials for COVID-19 employ umbilical cord MSCs. Hence, the pandemic has created a new market for those companies which are engaged in the manufacturing of MSCs products from donated birth tissues, hence may contribute to the market growth, post pandemic.
Moreover, many of these manufacturers have applied for COVID-19 EUA from the FDA and are partnering with local hospitals to treat COVID-19 patients. For instance, in September 2021, Life Cell's Mesocel received approval for a clinical trial from DCGI; therapy derived MSC of the umbilical cord tissue set to treat patients with pneumonia, COVID-19, and acute respiratory distress.
The presence of favorable government initiatives for the development of stable cell lines, as well as the introduction of new technology for cell line storage and characterization, are among the critical factors expected to drive market growth in the forecast period. For instance, In December 2021, 'Vineti' and 'Be The Match BioTherapies' collaborated to develop an integrated supply chain management solution for gene and cell therapy. Such initiatives and collaborations are anticipated to drive growth during the forecast period.
Furthermore, the key players in the market are also involved in research collaborations, in order to reprogram newborn stem cells from umbilical cord blood as well as umbilical cord tissue into iPSCs. These collaborations are also expected to drive the growth of market over the forecast period. For instance, In May 2021, Opsis Therapeutics, FUJIFILM Cellular Dynamics, and Blue Rock Therapeutics entered into strategic research and development to create cell therapies to cure eye diseases. These companies will use their expertise to develop off-the-shelf iPSCs to cure ocular diseases.
Go through the table of content of Biobanking Industry Data Book to get a better understanding of the Coverage & Scope of the study
Biobanking Industry Data Book Competitive Landscape
The market players are involved in the manufacturing of various products associated with cell banking industry including reagents, consumables, and equipment along with certain services. To maintain a significant share in the market, key participants are undertaking various initiatives and implementing business strategies, such as product launches, product portfolio expansion, reinforcement and stabilizing the distribution network, and manufacturing capacity expansion and geographic reach expansion through acquisitions, collaborations, and partnership.
Key players operating in the Biobanking Industry are:
Danaher Corporation
Tecan Trading AG.
Thermo Fisher Scientific
Qiagen
Merck KGaA
Check out more Industry Data Books, published by Grand View Research
About Grand View Research
Grand View Research, U.S. based market research and consulting company, provides syndicated as well as customized research reports and consulting services. Registered in California and headquartered in San Francisco, the company comprises over 425 analysts and consultants, adding more than 1200 market research reports to its vast database each year. These reports offer in-depth analysis on 46 industries across 25 major countries worldwide. With the help of an interactive market intelligence platform, Grand View Research helps Fortune 500 companies and renowned academic institutes understand the global and regional business environment and gauge the opportunities that lie ahead.
Contact:
Sherry James
Corporate Sales Specialist, USA
Grand View Research, Inc.
Phone: 1-415-349-0058
Toll Free: 1-888-202-9519
Email: sales@grandviewresearch.com
Web: https://www.grandviewresearch.com/sector-reports-list
Follow Us: LinkedIn | Twitter