U.S. Air Purifier Market Top Company Overview, Sales Channels and Research Report
San Francisco, Calif., USA, Nov 30, 2022 — /EPR Network/ —
U.S. Air Purifier Industry Overview
The U.S. air purifier market size is anticipated to reach USD 4.2 billion by 2028, registering a CAGR of 8.6% over the forecast period, according to a new report by Grand View Research, Inc. The market is primarily driven by the increasing concerns about both outdoor and indoor air pollution coupled with the health problems associated with them. Poor indoor air quality can cause fatigue, headache, and irritation of the eyes, throat, lungs, and nose, which can have a negative impact on the productivity of workers. Some air contaminants can cause respiratory diseases, such as asthma. Product adoption is increasing rapidly in the U.S. to minimize such health issues caused by poor air quality.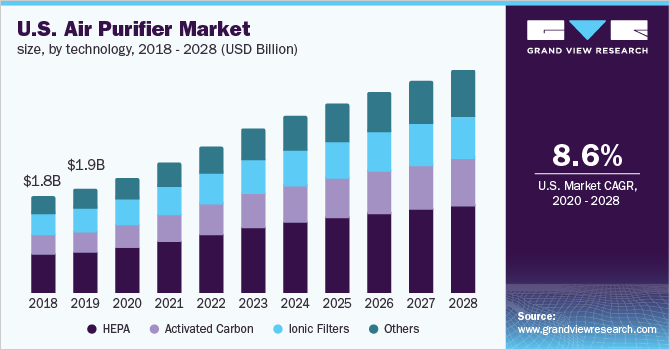 The strict standards, guidelines, and regulations about air quality in the U.S. are expected to have a positive impact on the market. For instance, the New Jersey Indoor Air Quality standard, N.J.A.C. 12:100-13 (2007) sets guidelines and standards related to indoor air quality during working hours in public employee-occupied buildings. Key manufacturers are focusing on acquisitions and mergers to expand their geographical reach and strengthen their position in the market. For instance, in January 2021, Lasko Products LLC acquired Guardian Technologies to strengthen its position in the home environment business with the help of Guardian's expertise in air purification.
U.S. Air Purifier Market Segmentation

Grand View Research has segmented the U.S. air purifier market on the basis of technology and application:
Based on the Technology Insights, the market is segmented into HEPA (High-Efficiency Particulate Air), Activated Carbon, Ionic Filters, and Others.
The High-Efficiency Particulate Air (HEPA) led the market with a revenue share of more than 39% in 2020.
Ionic filters are estimated to witness a CAGR of 6.8% over the forecast period.
The adoption of activated carbon air purifiers in the U.S. is expected to witness the fastest CAGR of 9.1% from 2020 to 2028
This growth is credited to the ability of activated carbon to absorb airborne particles, which make it very effective in trapping gases, fumes, and odors
Based on the Application Insights, the market is segmented into Commercial, Residential, and Industrial.
The commercial application segment led the market accounting for the maximum revenue share of more than 54% in 2020.
Air purifiers with HEPA and activated carbon are used in restaurants and hotels for removing airborne particulates, odor, and smoke from the air.
The product demand in the residential application segment is estimated to grow at a CAGR of 6.2% from 2020 to 2028.
The increasing demand for clean air has resulted in augmenting product adoption.
Key Companies & Market Share Insights

Manufacturers are involved in adopting various strategies, including new product development, geographical expansion, joint venture, and acquisitions to enhance their market penetration and to meet the changing technological demand of various applications, such as industrial, commercial, and residential. The market participants compete based on various parameters, including product performance, technical competence, price, quality, and corporate reputation.
Some of the prominent players in the U.S. air purifier market include:
IQAir North America, Inc.
Honeywell International, Inc.
LG Electronics
Unilever
Aerus LLC
Panasonic Corp.
Hamilton Beach Brands, Inc.
Whirlpool Corp.
Daikin Industries, Ltd
Rabbit Air
Order a free sample PDF of the U.S. Air Purifier Market Intelligence Study, published by Grand View Research.