Immunohistochemistry Market Size Worth $3.92 Billion by 2030
San Francisco, Calif., USA, Mar 23, 2023 — /EPR Network/ —
Immunohistochemistry Industry Overview
The global immunohistochemistry market size was valued at USD 1.89 billion in 2021 and is expected to grow at a compound annual growth rate (CAGR) of 8.4% from 2022 to 2030. Increasing implementation of automation and machine learning in IHC, coupled with the introduction of technologically advanced Immunohistochemistry (IHC) solutions, is expected to significantly drive the market over the forecast period. Advancements in IHC protocols have boosted its demand to a significant level in disease diagnosis. In addition, the rise in product approvals and the launch of technologically advanced IHC systems for disease diagnosis are further propelling the market growth.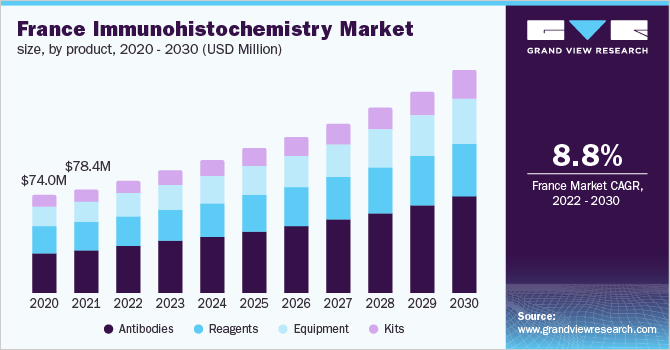 For instance, in August 2021, the FDA approved Roche's VENTANA MMR RxDx Panel to identify dMMR solid tumor patients eligible for anti-PD-1 immunotherapy. Companies continue to launch novel products to strengthen their market position, which leads to revenue generation. For instance, in March 2021, Roche launched the DISCOVERY Green HRP kit to detect and profile biomarkers and cell populations in tissue-based research. This kit can be utilized in combination with other detection kits, expanding the multiplexing capacity of in situ hybridization andIHC. The immunohistochemistry technology is limited to single parametric evaluations of a sample.
Gather more insights about the market drivers, restraints, and growth of the Global Immunohistochemistry Market
Newer techniques, such as multiplexed IHC, however, allow multiparametric and detailed analysis from a single tissue segment by utilizing advanced methods of mass spectrometric detection. Multiplexed IHC helps address the technical challenges posed by the labeled fluorescence detection-based method, thereby spurring the market revenue. The growing elderly population in both developed and emerging nations would favorably impact the market. The frequency of age-related disorders is expected to rise dramatically as the global geriatric population grows significantly. RT-PCR, IHC, and an electron microscope were used to detect the virus, indicating that the effect of SARS-CoV-2 is not limited to the lungs.
Browse through Grand View Research's Biotechnology Industry Research Reports.
Regenerative Medicine Market – The global regenerative medicine market size was valued at USD 55.03 billion in 2022 and is expected to expand at a compound annual growth rate (CAGR) of 15.7% from 2023 to 2030.
Autologous Cell Therapy Market – The global autologous cell therapy market size was valued at USD 5.1 billion in 2021 and is anticipated to grow at a compound annual growth rate (CAGR) of 19.4% during the forecast period from 2022 to 2030.
Immunohistochemistry Market Segmentation
Grand View Research has segmented the global immunohistochemistry market based on product, application, end-use, and region:
IHC Product Outlook (Revenue, USD Million, 2018 – 2030)
Antibodies
Equipment
Reagents
Kits
IHC Application Outlook (Revenue, USD Million, 2018 – 2030)
Diagnostics
Drug Testing
Forensic applications
IHC End-use Outlook (Revenue, USD Million, 2018 – 2030)
Hospitals & Diagnostic Laboratories
Research Institutes
Others
IHC Regional Outlook (Revenue, USD Million, 2018 – 2030)
North America
Europe
Asia Pacific
Latin America
Middle East & Africa
Market Share Insights
January 2021: Biocare medical LLC launched the ONCORE Pro, a fully automated in vitro diagnostic benchtop system for In-situ Hybridization (ISH) and IHC applications.
January 2021: Abcam and Shuwen Biotech (Shuwen) entered into a strategic alliance for developing and commercializing Companion Diagnostics (CDx). Under the agreement, Abcam is providing recombinant rabbit monoclonal antibodies to Shuwen Biotech for further immunohistochemical verification.
Key Companies profiled:
Some prominent players in the global immunohistochemistry market include:
Thermo Fisher Scientific Inc.
Hoffmann-La Roche Ltd.
Merck KGaA
Danaher Corporation
Perkinelmer, Inc.
Bio-Rad Laboratories, Inc.
Cell Signaling Technology, Inc.
Bio SB
Agilent Technologies, Inc.
Abcam plc.
Order a free sample PDF of the Immunohistochemistry Market Intelligence Study, published by Grand View Research.